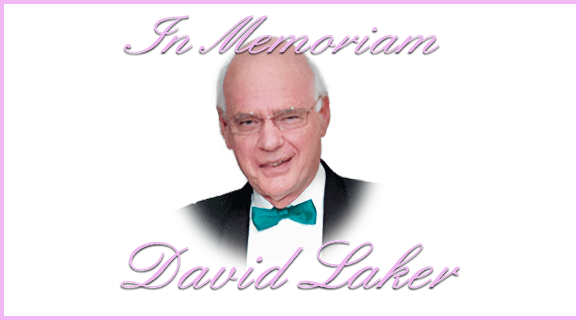 David Laker was a long standing and committed member of Orpington Video and Filmmakers and served on the Committee as Treasurer for the last 12 years, managing the accounts methodically and ensuring money was used appropriately, subs collected halls hired, bills paid and accounts kept up to date.  He and Carole kindly hosted a number of club garden parties in their beautiful garden.
His desire was for the club to thrive and to drum up interest, particularly with teenagers, he contacted Bromley College offering to help judge student's films; a very successful move resulting in one of these students recently joining the club. 
He organised and put on shows, tailored to specific needs for The National Trust and others, and was key in organising our 'Spring' and 'Autumn Shows', encouraging Knoll residents, members of his church and friends to attend, maintaining contacts to invite them again. 
His films about Orpington's history were shown at events held at his Church, and copies given to appropriate libraries for the future.  His research was thorough; it must have taken hours; what a boon to the Historic Society.  He obtained copies of maps from centuries ago, voting papers, photos, land holdings, etc., drawing on information held in libraries and The Imperial War Museum to include in his films. David was delighted to win top awards for 'An Unwelcome Piece of Orpington's History' about the last victim of WWII, Ivy Millichamp, killed by a V2 bomb in Orpington. 
When England went into lockdown, David was the one who set up and hosted Zoom meetings.  He began to put our club's newsreels on Vimeo for the public to access, so advertising the club.  He sent out invitations to all his contacts inviting them to a zoom 'film show' specifically created for this purpose. He organised a live show at The Churchill Theatre in Bromley, to advertise OVFM and to encourage new members.  To give members access to watch films and to assist at club meetings he put many archive films onto Vimeo.  He was proactive in gathering footage for each year's newsreel to which he was a huge contributor going out in all weathers, covering the likes of the Remembrance Day Services at the War Memorial, All Saints Church and Canadian Corner, the Children's Business event, the Big O Festival, Palm Sunday processions, Christmas lights and the Santa Dash.  David hadn't slowed down and wished others would show the same enthusiasm and commitment.
During lockdown, he together with a handful of others moved to a complex edit program and, with the help of John Epton, learned the basics of this system.  John allowed each attendee to pose questions to be covered in the 'Zoom' tutorial and then guided them through the process.  David learned animation and from that time on, we would witness David drawing lines along ancient maps to pinpoint whatever part of the story needed visual assistance. Some of us hoped he would move on, but such was his love of this new found skill that we were to witness many more lines being drawn on maps, or blocks of colour to highlight certain buildings, streets or areas.
The flavour of many an exotic holiday abroad was captured on film, as were adventures with his grandchildren and an explanation of why icebergs are blue. Technically challenging, he made 'A Time When Orpington was Still a Village' using wonderful paintings by Richard Rayner's from the 1890s, superimposed onto a scene of the exact spot today.  Two films 'Disastermind', a spoof of Mastermind and 'Costly Words' a joke, set in a restaurant, caused a great deal of amusement.
David leaves a huge void in the club and cannot be replaced.  He will be sadly missed. We remember him with fondness and if we all had his energy and commitment….. well….. we'd all be worn out!  We send our sincere condolences to Carole and the family at this sad time. 
Jane Oliver – OVFM Chairman