Whether you shoot with film camera, DSL, camcorder, smartphone or tablet OVFM happily extends the invitation to you to join our club to improve your skills, learn some new ones and share your work with a like-minded group ready to offer advice, encouragement and help. Join OVFM and you will also enjoy the benefits that come with being part of a club that is a member of the IAC, opening doors to new and wider experiences within the world of amateur filmmaking.
Our club meetings are held from 8 – 10pm on alternate Tuesdays at the Barnard Room, St. Augustine's Church, Southborough Lane, Petts Wood BR2 8AT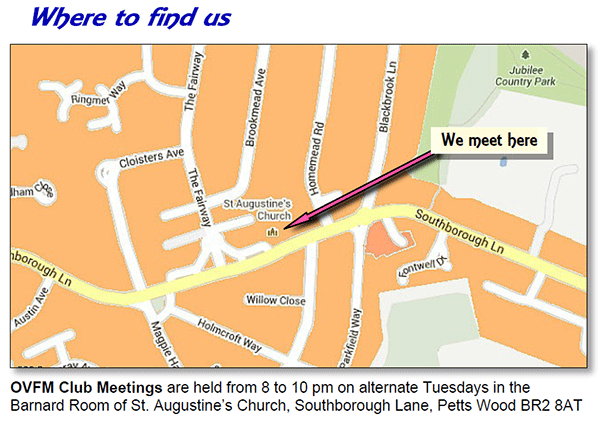 The Barnard Room can be found at the far end of the church car park with the entrance to the right.
You are very welcome to visit the Club a couple of times to see if you would like to join. We will send you a copy of our Annual Programme if you provide an address, so that you can see the wide range of our activities or you can click the CALENDAR button.
Membership costs £25 per year, £45 for couples, £5 for Juniors.
This covers refreshments at every Club meeting, free entry to all our club shows, a copy of our monthly Newsletter, access to the Members' Only section of this website, access to Club equipment and expert advice.
You will ask you to complete a simple form giving your details.
Contact Us!
If you are interested in attending one of our club nights, have any questions about our club or require any further information please contact our chairman Jane Oliver or club secretary Barbara J. Darby via e-mail at info@ovfm.org.uk. You can also follow OVFM via social media on FACEBOOK or TWITTER for news updates or to reach out and stay in touch with us.
In the meantime, you can watch a selection of films from our archive HERE and below is a little promotional video: