Orpington Video & Film Makers – OVFM – started in the days of cine-film, formed by Ian Dunbar in 1958 under the name Orpington Cine Society to bring like-minded people together and encourage others to join and enjoy the world of amateur filmmaking. We have progressed a long way since then,  with members keeping up to date with the latest filming, editing techniques and equipment as well as ever changing projection technology.
Over the years we have had many people pass through our doors, their skills and knowledge of filmmaking having grown to take them from keen and green novice to award winning filmmaker on the amateur circuit, and even to positions of prestige within the IAC of which OVFM is a proud member.
Currently our membership has an age range from 16 to 90, resulting in a which range of styles, topics, and interests covered in the films we make. It is not just different genres represented here but the scope of local events covered for our legendary newsreel capturing social happenings in and around the borough. By welcoming people of all ages keen to learn a new hobby or to pass on their knowledge to others, and most importantly to make and show us their films, OVFM remains a beacon of activity within the community.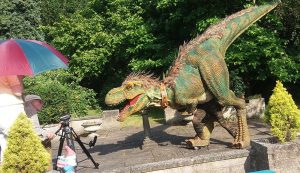 Club Meetings are held from 8 – 10pm on alternate Tuesdays at the Barnard Room, St. Augustine's Church, Southborough Lane, Petts Wood BR2 8AT
You can attend for a couple of 'free' visits to meet us and see what we do and what we have to offer, after which we hope you will want to join our club. The programme for each upcoming meeting can be found by clicking on CLUB MEETINGS in the menu bar above.
Social Events: As well as Club evenings, we also hold social events such as the Summer and Christmas Socials, and the Annual Dinner.
Public Films Shows: Twice a year we put on a public film shows at the Methodist Church, Orpington in the Spring and Autumn. these shows regularly draw over 120 people to see the latest works from our members, classics from out 60+ year archive, and the legendary newsreel of interesting events in and round the Borough of Bromley from the previous year, which all members are invited to contribute to.
Bespoke Films Shows: We also put on specialised film shows for other clubs and organisations, with programmes tailored specifically for them featuring old and new films from our archive.  See BOOK OVFM for more details on this.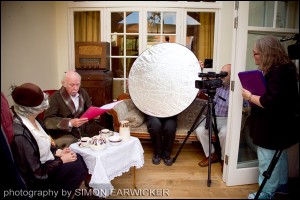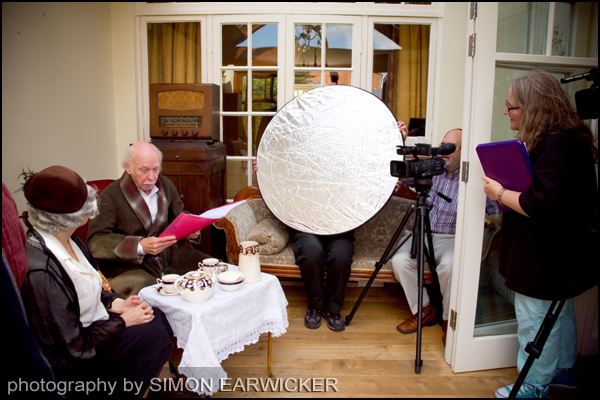 Club films are made by groups including experts and "novices", often for regional, national, and international inter-promotional competitions including the Kent Film Festival, BIAFF, UNICA, Staines Annual Competition, and the Triangle Competition, held in conjunction with other local clubs. OVFM tends to do well in these.
We also have our own annual in-house competitions for both club and solo films, but also encourage members to take part in regular non-competitive Films to a Theme project, designed to keep our creative juices flowing.  Finally, we also hold one night practical evenings, based on an idea or particular filming technique, such as green screen or improvising with props and costumes.
Tutorial Evenings and Practical Evenings are regularly held to ensure knowledge is shared between members of all skill levels, as technology and equipment are always changing and upgrading, as well as offering tips on lighting, scriptwriting, post production and more. With many different cameras and editing equipment used by members the chance of some having the same is high, therefore it is probable someone will have ideas about any problems that you need to be solved, or clarity required for using and getting the best out of your gear.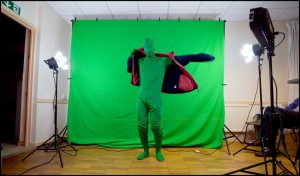 We are affiliated to the IAC, the film and video institute and enjoy meeting fellow enthusiasts at interclub, regional, and international film festivals. This is of great importance for OVFM and individual filmmakers to be a member of  this august organisation, which has the patronage of legendary professional filmmakers such as Lord David Puttnam.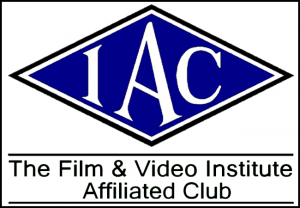 We always say, it's the FILMMAKER and not the equipment that makes a good film!!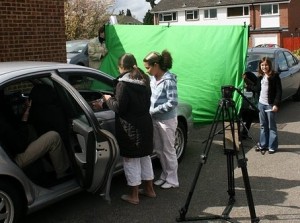 So, whether you learned about OVFM from friends, social media, the Internet, local newspapers and magazines, please visit the JOIN US page for more information.
YOU WILL BE VERY WELCOME IN OUR CLUB!
We have members from Bromley, Orpington, Chislehurst, Petts Wood, Bickley, Sevenoaks, Ashford, Otford, Knockholt and Kemsing! So wherever you live, we're your local film or video making club!
Contact and Further Information:
JOIN US is the page to learn more about how you can get in touch with us and what the club can do for you
CLUB MEETINGS is where you find the programme and information for all upcoming club meetings, updated fortnightly
CALENDAR has all the dates for what and when is happening throughout the year
BOOK OVFM has all the details for booking one of our bespoke film shows for your club or organisation.
Thanks for reading!