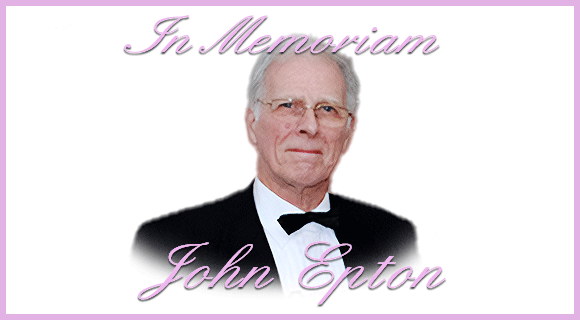 In Memoriam of John Epton
John Epton appeared quiet and unassuming yet beneath that façade was a highly intelligent technically minded expert, with an incredible ability to teach others the intricacies of editing in a non-threatening, simplistic way, leaving room for questions, patiently going through each step.
His camera work was excellent; superb with his more recent 4K camera.  He and Ann worked closely making many award winning films over the years.  Their films included charity events, dances, holidays, narrowboats, restorations, artwork and even a spoof film. They continued to make films for as long as John was able.  Their latest, 'The End of an Era' a story of the local fruit and veg stall as it closed for good was made in memory of the stallholder's wife and won three awards in the months before he passed away, including at BIAFF where only highly skilled filmmakers dare enter.
When there were events to cover, John would be one of the first volunteers.  He would capture local events such as 'The Big O', fetes, Christmas events and Remembrance Day Services.  He didn't only pay attention to getting the right shot he always captured the best sound quality, something many filmmakers overlook.  He helped me to film the story of the youngest pilot to fly solo circumnavigating the globe in a single engine aircraft and to film The Mayor of Bromley and The Mayor of Thunder Bay, Canada signing a 100 year friendship agreement in the Council Chamber.  I was always happy to see John's name stamped into the credits of my films.
Special effects were scattered about in many of his films, but to the untrained eye they might have gone unnoticed; like when he put 'Epton' as a credit on the narrow boat at the end of one film and pinned it in such a way that it not only travelled with the boat, but changed angle as the boat changed angle with a shadow cast over it to marry up with the 'moving' shadow on the boat.  Other times he would change the colour of an object without anyone guessing. The green screen came into play; like in his film 'The Gang Broke Up'.  
When it came to Barbara Walker's 'Commute', John carefully calculated the various measurements in order to superimpose commuters into a moving train.  The complexities of this film would have left most of us scratching our heads, but John had the solution.  Even at breakfast he would be calculating how precisely he was going to get Cornflakes to jump out of the box and run for their lives before the horrible Ogre gobbled them up.  Not only did he make these incredible films, he then made 'how it was made' films; what a gift.
The Spring and Autumn Shows would often had the 'Epton' stamp on them, be it the design of the OVFM logo, the opening sequence to a show or the newsreels which were superbly put together. For our 60th Anniversary it was John who once more stepped up to technically put together an incredible show, working his magic on worn out early films to bring more light, contrast and life back into them before converting everything into a format none of us had ever heard of; he cracked it! Without him it would have been impossible; no other member had the skill to do it.  And it was him and Ann we had to thank for securing the venue, the local Odeon with its huge screen.
During lockdown the club took a while to realise the potential of Zoom.  In hindsight lockdown and zoom became our best friends as four of us joined John almost most weeks as he unravelled the mystery of DaVinci Resolve via Zoom.  John taught us so much over the last two years to make all four of us competent in using Resolve, something we would never have achieved on our own.
John leaves a huge void in the club but we are extremely thankful for his generosity in helping others to become the filmmakers they are now and to leave us with films crammed with information to help.  
We send our sincere condolences to Ann and the family at this sad time. 
Jane Oliver
Chairman OFVM
---
I'm so sorry to hear this. He will be very badly missed.  A good friend to me.
Hugh Darrington
---
He will leave a huge gap in the Club's knowledge base AND top class film makers we have been privileged to have as Members.  But of course his films will live on.
Brian Pfeiffer
---
I am so sorry to hear the sad news about John Epton. He was a mainstay of our club with a vast technical knowledge of film making and editing. His films were always highly watchable and of high quality. Amiable by nature and always ready to help, he will be greatly missed by us all.  My condolences to Ann and family.
John Bunce
---
John was the kind of member that every film club needs.  A brilliant film maker but always willing to provide support and advice to others, and to work on various projects to support the club such as setting up the technical aspects of the film archive, providing FileZilla to enable file sharing, running training sessions, including Zoom sessions to get some of us started with Resolve editing software.  I was so grateful for the patient help he gave me over the years and will miss him greatly.
David Laker
---
How sad to hear of the death of John Epton!  John was a long time member of the club and I'm sure we will all miss him badly.
John was a multi-talented person and it was his misfortune to live near to me, so over the years I certainly made use of some of his talents, especially advice on computer and editing problems. We did not see many films from John, which is a shame, but he was one of the mainstays of the club.  I consulted him if I needed any special effects in a film.
One which comes to mind is for a film which I called The Quest.  It featured a number of club members and took place in Cotman's Ash which is a private area of woodland near Kemsing.  I happened to be a friend of the owner and he gave us permission to shoot our film in the shack in the woods. The IAC had a set theme each year for a National Competition and at that time it was  'Blue'.  It was only my second attempt to make a thriller, so I piled on the effects.  Most were simply unsettling noises around the shack in a thunder storm which I created during the editing. 
Anna Littler was the unfortunate lady who had agreed to spend a night in this haunted shack. Club members wearing black hoods were seen flitting around outside the shack, but where did the 'blue' come in? Well, I had planned for Anna to look into the mirror and gradually her reflection faded and was replaced by a blue mist through which sinister hooded figures (club members) could be seen approaching. John managed this splendidly; her image disappeared and a thoroughly menacing figure replaced it.  It was of course, Andy from our club.
I was quite proud of the film although it did not win the competition, but it was good to make a 'club film' again and I think we all enjoyed it – even poor Anna, who came to an unfortunate end!
Colin Jones
---
Every film club should have someone like John Epton as a member – someone who has knowledge of their craft and is willing to share it with everyone, someone who is always open to helping others with their projects or represent the club, and most importantly, someone with whom is easy to get along.
I must confess I didn't really get to know John that well until about halfway through my time with OVFM, although I had got to chat with Ann more before then. Despite being a prolific filmmaker for the club and an attendee at the meetings and film shoots, I always felt John was a little like me in that he could easily fade into the background whilst the bigger personalities held court.
Unlike me, John was a good filmmaker, especially documentaries on local activities, and he was keen to learn the mechanics and technical aspects of this hobby of ours, which I was in awe of as many in the club didn't seem so interested in. John would host tutorials to explain the foundations and benefits of such post production necessities like colour correction (about which I have since become a bore) in easy to understand terms.
It never felt as if John was showing off this knowledge, rather he was keen to help us become better filmmakers, and that to me is he mark of a good tutor. On a personal note, the turning point for me in getting to know John was the making of MEET DEXTER. John thankfully took on the role of DOP (director of photography) for the shoot and we met up beforehand to discuss the shooting, the blocking, and he even drove Annabelle Lancaster and myself to Derek and Olive Allen's house to check out what would be our filming location.
Knowing John was onboard to oversee that aspect of the production took a huge load of responsibility off my shoulders so I could get on with the directing without any worries, and that the ideas we had for some of the more ambitious shots would be pulled off. It didn't stop there, as John helped out with the post-production and later, burning the specially printed DVDs to send out to cast and competitions.
We would collaborate on two further projects of mine, LOST SMILE and COLD CALL, the former was shot at John and Ann's house and contains some of the best photography of any film of mine. Well, it would – John had £2,000 4K camera whilst I was using a £150 Sony camcorder – but I still look at those shots and know that I can't take any credit for them but I am very proud they are in the film.
And I am sure I am not alone, as many films made by club members and club projects will bear John's name on there somewhere, be it as cameraman, sound recording, editor, colour correction, or another valuable role. It is great to have such an all-rounder who is willing to give up his time to aid others, unless it was a ploy to avoid doing the shopping with Ann. But I digress…
Like many couples in OVFM, John and Ann were a great double-act, which I always found charming. Whatever small differences there may have been in their personalities, they complemented each other and clearly brought out the best in each other. Whenever Ann was also involved in a film shoot, she and John were a team yet they could work independently of each other, so in essence we were getting double the benefit of the Epton experience.
So, to John I would to say thank you – for the knowledge you imparted, the experience you shared, the time you afforded us, the kindness you showed, the confidence you gave me, and the humility with which you did it. I feel blessed and fortunate to have known you and like many, the legacy you leave in OVFM is immeasurable.
My thoughts and deepest condolences are with Ann and her family.
Lee Relph
---
I totally concur that every club should have a member like John.
He was one of those people who work tirelessly in the background without many people in the club realising it. He was very kind and generous to all of us at OVFM, both helping whenever he could and sharing his wide technical knowledge with endless patience.
Film making can be a very solitary hobby, especially when it comes to editing. You can spend hours on your own tucked away in the spare bedroom, with your partner feeling somewhat abandoned elsewhere, so it makes a tremendous difference when it can all be shared. Many, many skills are required in the making of a film, and Ann and John were the ideal partnership, each lending their individual talents to the completed item.
John will be sadly missed by us all, especially Ann to whom I offer my sincere condolences. I'm so glad I knew him.
Annabelle Lancaster