COLIN JONES
In no particular order:
1. The Summer of 42 (Dir. Robert Mulligan 1971)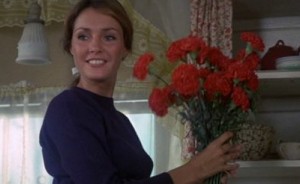 With most films the effect it has upon you depends partly upon your state of mind at the time. I found it profoundly moving as well as amusing as it captured the struggle of boys in early adolescence to make some progress with girls. But it also evoked a long gone period during the war on an American holiday island interrupted by the real war going on far away.
2. Laurence of Arabia (Dir. David Lean 1962)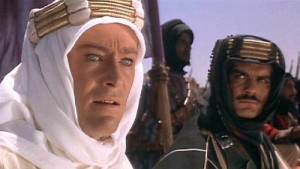 Not much to say about this film which I have watched many times.  Apart from the First World War background the battle is between Laurence and the upper class rigidity of the Officer class and especially the inward battle with himself.
3. Chicago (Dir. Rob Marshall 2002)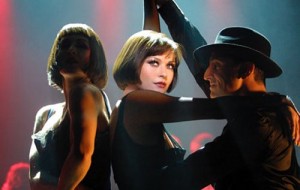 As a rule I hate modern music but this one blew me away and had my feet tapping.  I loved "The Singing Detective" with it's several layers of reality and you never quite knew which one you were watching.  Well this was the same, but much faster and livelier.
4. The English Patient (Dir. Anthony Minghella 1996)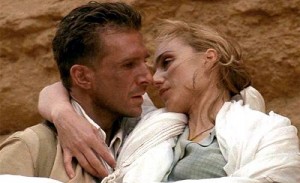 When I first saw this I was sure it was a good film, but was confused by the jump backwards and forwards with time, but once I had read the book I made a point of seeing the film again and I reckon it is a classic.
5. Waltz of the Toreadors (Dir. John Guillermin 1962)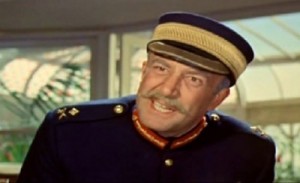 A little known Peter Sellers film which in parts was hilarious but mostly sad and the humour wistful. The old man has mostly lost the skill of seducing servant girls and considers suicide but the appearance of a new maid servant persuades him to give up suicide in favour of seduction.  Very sad in places.
6. Fantasia (Dir. Various 1940)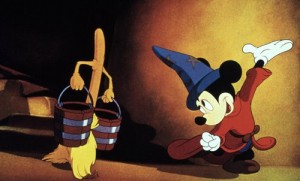 Ah!  The greatest animation ever?  The Disney imagination was allowed free reign. I saw it as a 10 year old evacuee in the ruins of a flattened Plymouth in 1941 and it transported me away from my own misery for a precious couple of hours. I still watch it whenever I can.
7. The Lady Killers (Dir. Alexander Mackendrick 1955)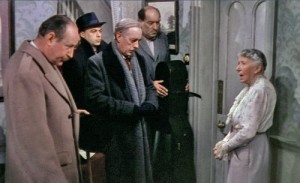 I suppose I had to choose an Ealing comedy as they give me such pleasure and evoke another bygone age which I remember so well. This was perhaps the best of the bunch and starred Alec Guinness and a very young Peter Sellers. But the star was little old Katie Johnson who still reminds me a dear old Rene Morris of OVFM.
8. The Great Dictator (Dir. Charles Chaplin 1940)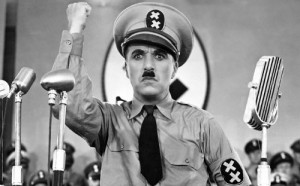 I just had to include a Charlie Chaplin movie.  If you want a laugh from beginning to end watch "The Circus", but "The Great Dictator" was one of his later films which really had a message along with the humour. It made him very unpopular with the Americans at the time many of whom were Nazi sympathisers, it also put Charlie on Hitler's death list!
9. My Fair Lady (Dir. George Cukor 1964)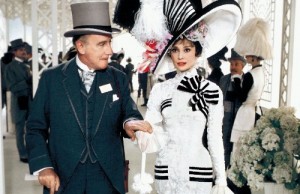 I had a job to choose my favourite musical but this one got my vote despite Audrey Hepburn's unfortunate attempt at a cockney accent.
10. The Big Country (Dir. William Wyler 1958)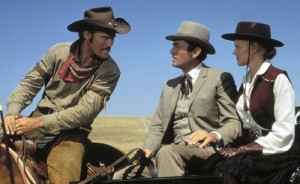 I'm usually not a fan of Westerns as they seem to think the answer to all problems is violence, but this one is different.  It also stars my favourite – Gregory Peck
So there you have it – agree or disagree as is your wont. Thanks for reading and don't forget to check out the lists from other OVFM members!! Click HERE to return to the menu page!