Tips for Film Students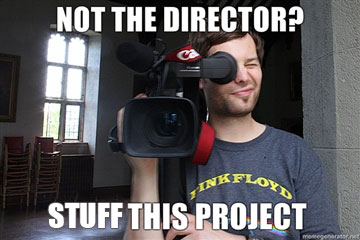 I've chatted with a few media students this month, and 'm not sure how to feel, I'm either disappointed or confused.. I'm always saddened by people and The Media when they run down Media Studies as a subject. It's not necessarily a useless subject, and teaches relevant skills. Sadly I think the problem might be some of the students themselves, rather than the course. Maybe they join it hoping for an easy ride, and then spoil it for the genuine ones who actually want to learn?
I spoke to three separate 16-18 year olds this month who were studying film and media studies, and of course this got me very excited! "What's your YouTube channel name?", I asked, hoping to see some talented amateur films. "I haven't got one", came the rather damp reply.  "Not to worry", I said maintaining my excitement "What sort of films do you like to make?" "I haven't really made any yet, I don't have a good enough camera", they said, looking expectantly at their parent standing nearby.
Unusually, I bite my lip at this point, and say "Ahh, I see" cheerfully, but subconsciously burying my head in my hands.
This lad clearly wanted to leave school and land a job as James Cameron's right hand man, and won't need a camera as a brand new 3D camera will be thrust into his expectant hands.
Job Interviews
Unfortunately, the industry doesn't work like that – surprisingly, there are hundreds of thousands of other school leavers that also want to land a job directing Johnny Depp too! If you're not passionate enough to make films with your phone or your mums rubbish camcorder just for the love of it, it's not going to give a very good impression at any job interview! Any employer will jump at someone that's passionate about film making, over someone who just wants a cool job. When I was recruiting, I would always go for someone with passion and skills over someone who just had good exam results.
This is why video clubs are SUCH a great idea! If anyone has an idea how we can get this into students' heads please let us know!
Viral Videos on YouTube
I don't know if anyone at the club has realised, but I'm quite interested in cats. The film I made a while ago "When Freya met Teego" about a kitten meeting an older cat, has been having an exciting ride this month. I posted it on YouTube fairly soon after releasing it, and it gained a respectable 40,000 views in two years.
Then at the start of this month, I noticed the views were picking up and in a couple of weeks, the number of views had doubled! This was extraordinary – I'd never had a film get more than around 50,000 views before, and at 80,000, this had blown my previous record out of the water!
Front Page of reddit.com
Then last week, I went out for the day and when I got back I was surprised to see I had over 50 comments in my inbox from that film. This was very unusual, as I only get 1-3 a day at best from all my films! I couldn't wait to get home to see what had happened. Arriving home, I saw that my film had received about 80,000 views that day! This was really shocking, and I was in quite a daze that evening. After a lot of research and tracing of where the viewers had come from, I finally discovered that my film had been featured on the front page of reddit.com – one of the top sites on the internet for the sharing of "interesting pages"
This single feature had been worth 110,000 views of my film in 24 hours, and currently that one film has now had over 260,000 views!
Most of my films have had no more than 500 views, but every now and then, you'll get a lovely surprise! So if you've been wavering, why not give it a try – You can't beat the lovely feeling of a complete stranger from the other side of the world, saying how much they've enjoyed your film!
If you'd like any help or advice, please let me know and I'd love to help encourage another fellow YouTuber!