On 2nd Sept 2021, Spring Park hosted the annual Triangle Competition (after a break in 2020) with OVFM, Shooter's Hill, and Epsom submitting their programmes for entry and judgement by Spring Park.
There were 21 attendees in all, mostly home base members with 3 members each representing  their competing clubs which is better than nothing in this current climate. Shooters Hill did a good job bearing in mind their dwindling numbers during recent years which meant they had few films they could pick from the relevant period.  Sadly Shooters Hill have closed, albeit they have been invited to join OVFM should they choose.
Epsom put on rather a strange mix, some of which made little sense to me and lacked the spark of the other two clubs.
Run by Graham Evans chairman, the three Spring Park judges unanimously, and without reference to one another, chose OVFM's presentation as the winner.  They concluded that every film OVFM had shown was made to a very high standard in their own right.  They were impressed!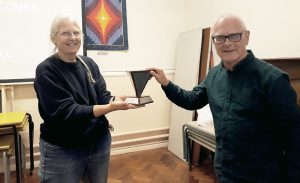 Congratulations to all who had a film included in the OVFM programme to help steal back our silverware after 9 years!
According to the trophy, now safely in the hands of the chairman, Orpington has won 16 times.  It appears that the Triangle Competition started in 1975.  (46 years)
Orpington's Success
1978
1979 joint
1981 joint
1984
1987
1989
1991
1992
1995
1997
1999
2000
2003
2011
2012
2021
You can look forward to seeing OVFM's selection at a meeting very soon.
Words and photo courtesy of Jane Oliver.