OVFM Social Lunch 2019
by
Hugh Darrington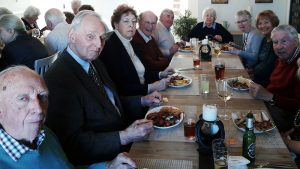 Great lunch, great weather: 'Three Horseshoes' scores a hit!
'The Three Horseshoes' pub in Knockholt was voted a hit by the 23 members of OVFM who went to the club lunch there on February 26th. They scoffed from a wide ranging menu from steak pie to curry and helpings were so enormous doggy bags were called for. Thanks to Jane for making the arrangements.  Good choice.
Service good, food good, company good, weather fantastic. What more could we ask for? Except for the presence of those members who couldn't make it due to ill health and we wish for their speedy recovery.
Sorry about the photos, some people were missed out of the edges.   I'm an amateur.
Hugh Darrington