No, I can't believe it is 2020 already but it is and the start of a new year means concluding some unfinished business from 2019, namely the TOP TEN competition!
The three individual qualifying rounds were held over the latter half of the year and from that the ten films with the highest scores from those rounds will be screened again in this final. The complete scores from all three rounds can be found HERE.
The ten – or in this case 11 –  films which will be screened and voted on in this session are as follows:
1. The Making of Ogre Eating by John & Ann Epton
2.  Lanzarote – A Different View by Brian Pfeiffer
3.  Distance by Mandy Carr
4.  Magic Tricks by David Roman-Halliday
5.  Braveheart by Jane Oliver
6.  Best Friends by Barbara Walker
7.  Lost Smile by Lee Relph
8.  World Garden by Barbara Darby
9.   i360 by Trevor Rogers
10. General Election, Orpington by David Laker
= Birks of Aberfeldy by James Morton-Robertson
As always, It is imperative we have a high turnout to make the scoring as fair and representative as possible so each film is given a fair assessment from a high a pool of voters.  The film with the most votes will be crowned the 2019 Top Ten Winner at the OVFM Oscars on March 17th.
We also ask everyone who is bringing as film via USB stick that you properly mark your device with your name and film title, making it easier for the projectionist when screening them rather than having to sift through a pile of flash drives with no clue as to which one belongs to whom.
Also, this meeting is your last chance to enter the Annual Competition. Hopefully you have already submitted your film(s) to Ian Menage for inclusion on the DVD to be compiled for the judges, so please ensure you have your £2 entry fee and ENTRY FORM  (this is in the Members' Only section so make sure you are logged in to access it) to hand in, whilst anyone who has yet to return their trophies from last year please bring them along too.
To download the Entry Form from the above link, roll your cursor over the top of the window to reveal the menu bar then click the download icon, or you can print the form off directly from the page by clicking the printer icon which is to the right of the download icon.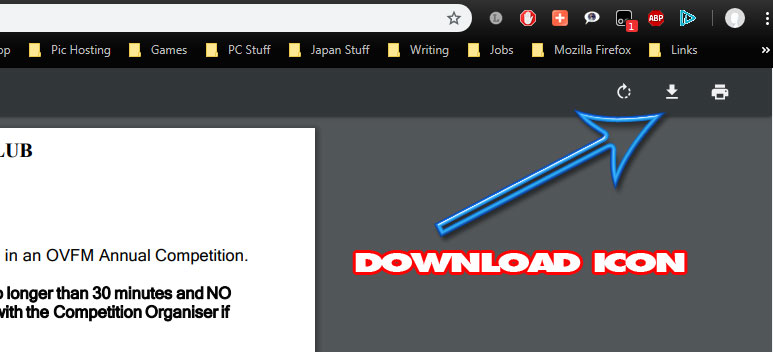 We hope to see everybody bright and fit for this important evening on Tuesday as we kickstart a new year here at OVFM!