CHRISTINE GREEN
For this week's meeting we get to take the weight of our feet and lt someone else do all the hard work as we welcome another guest speaker to our humble club. This time we shall be hearing from artists and graphic designer Christine Green.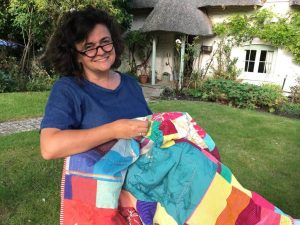 Christine was born into a family of artists, ranging from graphic design to photography, so this naturally became a major focus of her life too,  in a career that has seen her create many titles and graphics for the BBC, as well as contributing in other areas such as costume and set design and even directing educational programmes on the arts. Nowadays, Christine concentrates on her work with textiles but it is her time as a title designer for the BBC that will be the main point of her presentation, when she drops by this Tuesday evening, with many stories to tell, advice to give and an impressive showreel in hand I am sure.
To learn more about Christine, visit her website – https://christinegreencrafts.co.uk/
See you then!