ANNABELLE LANCASTER
I decided I had to give in to the pressure from Lee and write this before all my favourite films are mentioned by other people.
I confess to not being a real film buff but I guess living with Reg for over 50 years was bound to have some effect! However, we don't always have the same taste and have disagreed many times as to whether a film showed self indulgence on the part of the lighting or special effects people.
It has been very difficult but I've chosen my top ten along the lines of memories, emotion and genre. So, in no particular order:
1. Dumbo (Dir. Samuel Armstrong 1941)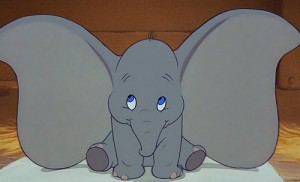 This was the first film I saw. The baby elephant being swung on his mother's trunk, as she sticks it through her prison bars, upset me so much I refused to go to the cinema again until I was about ten. Eventually I was persuaded by friends to go to the Saturday morning children's matinee to cheer on "The Lone Ranger" and sing along to a bouncing ball.
2. Whisky Galore (Dir. Alexander Mackendrick 1949)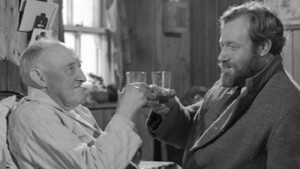 A cargo of whisky gets washed ashore on to a Hebridean island and is smuggled away by the islanders who hide it in every place imaginable. Billed as an Ealing Comedy it's based on a true story. Laughing at adults misbehaving was a real joy to a young person at the time, and I like to think that today's independently minded Highlanders would still take delight in defying the authorities.
3. Calamity Jane (Dir. David Butler 1953)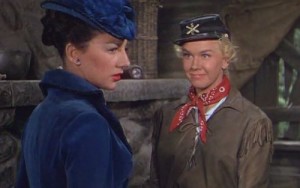 Set in the Wild West the local tomboy has to fight off her jealousy, and recognise some home truths, when all the locals fall for a real girlie girl.This is one of a long list of musicals I could mention. It reminds me of my courting days when Doris Day was a great favourite and the lyrics of the songs held a special meaning.
4. My Fair Lady (Dir. George Cukor 1964)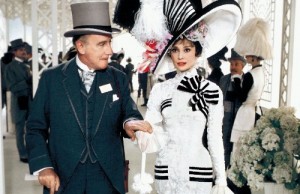 Well, one has to sit back and just wallow occasionally, and I do love Audrey Hepburn – and Rex Harrison. I know her singing was dubbed by the talented Marni Nixon but the music is great, the visuals are lov-e-ly, and I swear I saw horses during the Ascot scene, though I'm assured they didn't actually appear!
5. The Silence of the Lambs (Dir. Jonathan Demme 1991)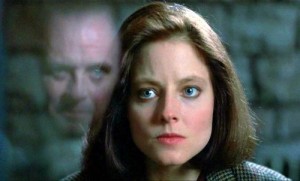 I'm not fond of horror films, or violence, but the psychological duel between the serial killer and the journalist introduce both without the need for graphic visuals. Jodie Foster's husky voice and the menace that Anthony Hopkins expresses as he makes that sucking noise through his teeth beats any blood and guts for me.
6. Schindler's List (Dir. Steven Spielberg 1993)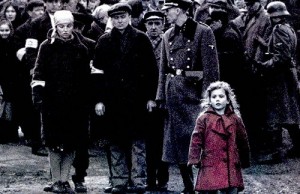 Directed by the wonderful Steven Spielberg it was shot in black and white, except for one touch of colour on a little girl's coat, and tells the true story of a man who saved the lives of over a thousand Polish Jews during WW2. I arrived at the cinema in a lot of pain, having badly twisted my ankle on the way, but within minutes I didn't feel a thing as I watched the horrors that befell the people on their way to concentration camps. I find it totally absorbing and the black and white leads you to almost believe you are watching a documentary.
7. La Grande Vadrouille (Dir. Gerard Oury 1966)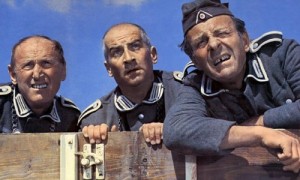 It takes quite a lot to make me laugh but when we went to live in France I discovered Louis de Funes who played crazy, hyper active gendarmes in a series of films. As he speaks very fast he was difficult for us to understand in the early days, but there were elements in these characters that so typified the stereo typical French policemen of that time that the actions were enough. In La Grande Vadrouille (The Great Stroll) he plays an agitated, wild conductor from the Paris Opera who gets caught up in helping three British airmen to escape after they've been shot down over occupied Paris. The cast includes Terry Thomas and the lovely French actor, André Bourvil.
8. Jean de Florette (Dir. Claud Berri 1986)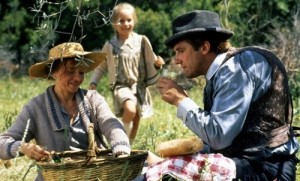 After being back in England for some time we decided to go up to London to see this film in French. It's the story of the battles over who owns the water that supposedly passes through a piece of valuable land. Starring Gérard Depardieu, Yves Montand and Daniel Auteuil it immediately transported me back to my beloved rural France with its idiosyncratic people, and the photography was so good you could almost smell the countryside.
9. Manon des Sources (Dir. Claud Berri 1986)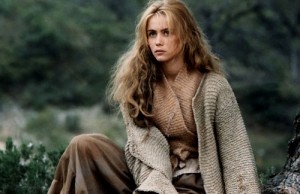 This is a follow up to Jean de Florette but each film stands on its own. They were both shot at the same time over a period of seven months. They were being shown one after the other at that particular cinema and, although the first one was two hours long, I'd have happily sat through them both. We didn't however, but now when I watch the DVD I like to sit close to the screen so as to block out everything around me!
10. The Lives Of Others (Dir. Florian Henckel von Donnersmarck 2006)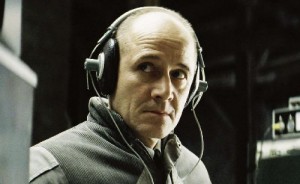 A German made film, it's an insight into the activities of the Stasi, the Communist secret police in East Germany. A disturbing story that we should all pay heed to.
So there you have it – agree or disagree as is your wont. Thanks for reading and don't forget to check out the lists from other OVFM members!! Click HERE to return to the menu page!