WHAT IS IT ALL ABOUT?
As you should all by now be aware, the club has a Vimeo Plus account which will be used to store many of our available films online in one handy place. A selection of these films will be shared on the club website – permissions pending – by way of giving visitors a small sample of our output as a club, in the hope it inspires them to join us.
In addition to this and the video tutorials, it has been proposed that we upload our competition films to the Vimeo account to make them accessible for club members to view, since many miss out seeing them at the regular meetings through absence for a variety of reasons. The first beneficiary of this is the Annual Competition, which traditionally has featured films some club members have chosen not to screen for the rest of us, yet have submitted them for judging by an external panel.
Again this will be at the approval of the film maker themselves but it would be nice to have as complete a representation of the entries as possible. Perhaps later on we can extend this to the Top Ten or the Triple Competition Evening (Kath Jones, Mike Turner, Vic Treen) but let's see how this goes first.
THE BASICS
Being a new endeavour for the club it would appear that some of you have concerns about how this works and there is even some confusion over the privacy options available in safeguarding our work. It is really quite straightforward and the best thing for all of you is that you don't have to do anything except keep making films and allowing us to share them – David Laker and myself will take care of the rest.
First and foremost, we won't upload any film to Vimeo without the full consent from the film maker. Secondly, the films will initially only be available to view on the OVFM website in the Members Only section. By selecting this option in the top Menu bar you will see two new additions to the sub-menu to reflect this: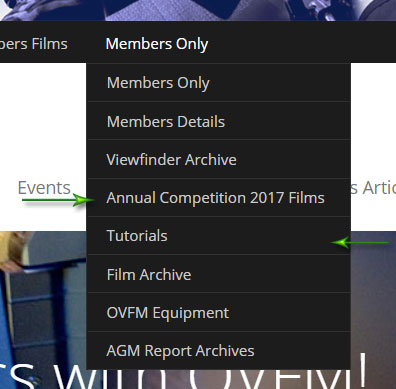 So far we have just two Tutorial videos but we hope to expand on this in due course. In fact, watching THE FIRST ONE about Filezilla is encouraged as this file sharing system will play an integral part in transporting the videos we upload to the Vimeo account (which is another issue for another time).
On the Annual Competition Films 2017 page we hope to host as many of the films entered into this year's competition as possible, as they make up the bulk of the winners at our annual Oscars night in March. Since we don't get the chance to see all or many of the films on this particular evening, having them available to view online and at one's own leisure is a positive boon.
HOW TO VIEW A VIDEO
There is really no magic trick involved, you simply scroll down the page until you find a film that takes your interest then click the PLAY icon in the video player window!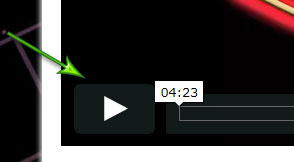 And to expand the picture to make it full screen, click the FULL SCREEN icon!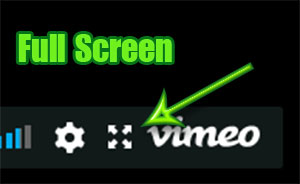 You can also select the video quality depending on your bandwith and broadband speeds by clicking the QUALITY icon or just leave it on "Auto" if you're not sure or your speeds aren't up to much.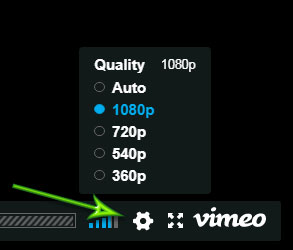 PRIVACY
As already explained all videos will be embedded onto the club website on pages that are in the Members Only section thus require club members to be logged into the website via the unique passwords they have been given, either by Chris Coulson when he started the site in 2011 or by me in recent years.
In other words, you DO NOT need to do anything new or different to view these videos, just ensure you are logged into the site as normal, just as if you were accessing the address directory or the Viewfinder archive. It's that simple.
VIMEO PASSWORD PROTECTION
However, there might be an occasion when somebody outside of the club (due to copyright permissions on certain amterial, etc) wants to limit the viewing of the video to just us in OVFM, or maybe a club member wants to enter their video for an external competition like BIAFF, SERIAC, etc. or wants to share it with family and trusted friends but doesn't want every Tom, Dick and Harry seeing their work, only these select few people. We can help with this.
On Vimeo, David and I have the ability to assign an additional password exclusively to a specific video in order to keep it hidden from unwanted eyes. Once the link to the video has been shared or embedded on another site (see below), only people with the password can view the film.
A film that is password protected will have the following display in the video player window: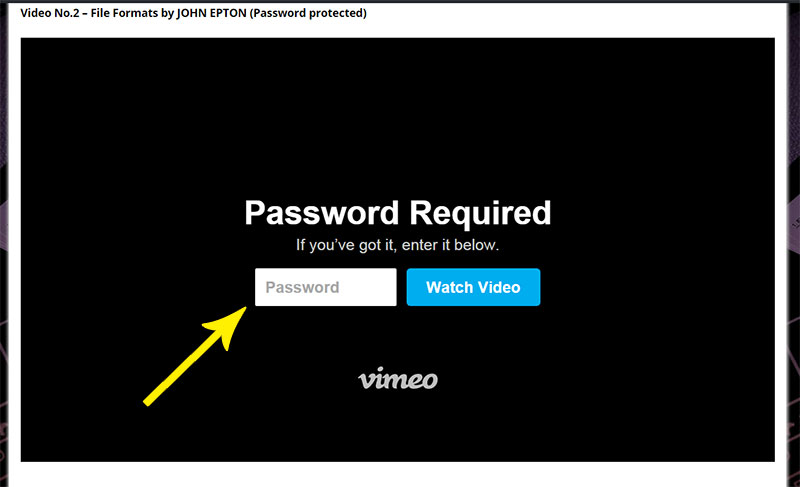 To view the film, one will have to enter the password supplied by David or myself on request in the white space provided on the player screen. No password, no video – it's that simple – but it is very unlikely that you'll encounter this on our site unless requested by the film maker.
EMBEDDING RESTRICTIONS
If you don't want your film to be embedded (i.e – linked directly to or publicly featured on) another site we can restrict the permissions for this by nominating only the OVFM website for this function to be enabled for. A film which we have applied this limitation to will display the following message to anyone trying to view it: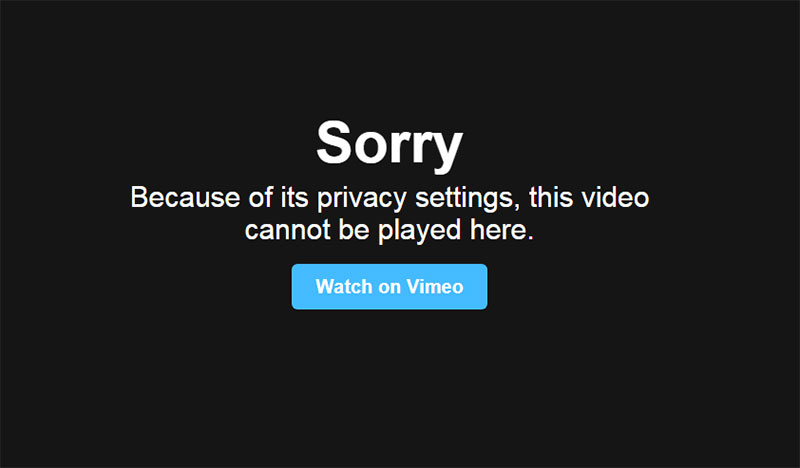 You'll notice that the message in the player window directs the viewer to watch the clip on Vimeo. Because of the privacy restrictions we have on our videos this part of the message won't appear on video on this site and potential viewers will NOT have the option seek the video out on Vimeo.
But, if you are happy to share you video on another site (like the IAC/BIAFF site), please let David or myself know and we can alter this permission to accommodate that, whilst keeping the other privacy settings like password protection intact. In addition to these measure, sharing and download permissions have also been restricted on Vimeo so your videos are completely safe from being shared without our say so.
Just to reiterate, this will likely be a rare occurrence where club members will require the second password to view a film, but hopefully by this time in the calendar year, most of the films will already be familiar to you so you won't need to see them again.
Once competition season is over, we can go back to limiting the access to the films exclusively to the OVFM website, unless expressly requested by the film maker to keep the passwords in place or if they wish to share them externally again.
Remember, this WILL NOT affect regular access to films shared on the OVFM site.
I hope that has cleared up any confusion about this new venture of ours and that you will all now feel more confident and willing in supporting us in this and making it work to the club's benefit.
Thanks for reading!