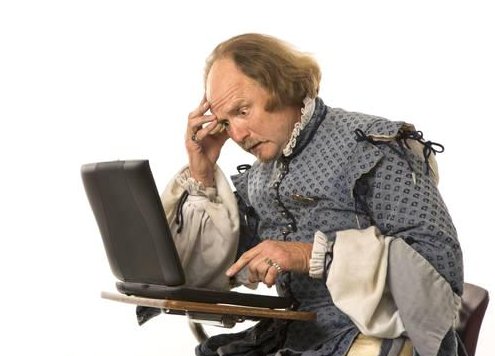 SCRIPTWRITING WITH CELTX
Part 1:  Getting Started
N.B – Celtx has changed a lot since this article was first posted. In 2016, they moved their operations to a cloud based service  to encourage online support and collaboration, as well as being able to push their subscription services since the basic version of the software was free.  However, the free version of the software is still available from external providers, with the tiny caveat of needing to run it whilst connected to the internet for the features to work.
For a beginner and the basic level we are going to be working at, what the free version provides enough to cover this. And hopefully, the software hasn't changed *that* much that the fundamental principles outlined in these articles aren't still relevant.
Hello Folks
Further to the recent Celtx demo I gave at the club meeting on the 12th of November, I figured that since there was a lot of information to impart at half an hour wasn't long enough – plus my awkward presentation skills probably made it seem like a load of garbled nonsense – it would be more helpful to add a blow-by-blow guide to getting started with Celtx here on this site, for people to refer to whenever the need arises.
As before I will be concentrating to the absolute basics as there is a lot to take in and a lot of the functions available in Celtx probably won't be used by many of us anyway.
First off you need to download Celtx – for free – from this website celtx.en.softonic.com/
DOWNLOADING CELTX
On the front page you'll see this download button:
Once the file has downloaded, run the .exe file and Celtx will be installed on your PC.
GETTING STARTED
When you open Celtx you will see this front page with the various script options available to you: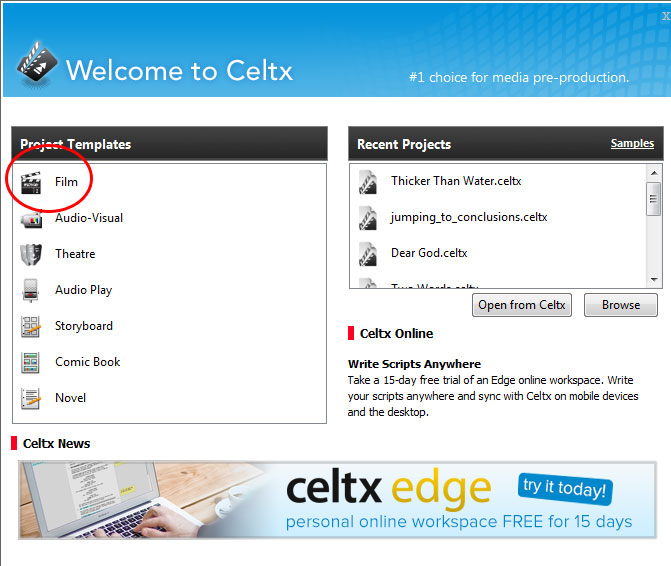 Obviously we will be using the "Film" template but if you ever fancy ago at writing a radio or TV show or a stage play the option is there for you. There are also demo versions of each of the options for you to peruse to see how Celtx works and what it can do for you.
Once you've opened the new document you need to set the format so got to "Script" in the toolbar and select "Format Options":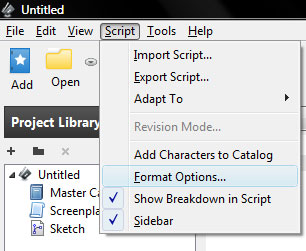 The best option is to select "A4" for paper size (as the US setting doesn't print correctly) and you can select to have "one", "both" or "none" of the scene numbers and dialogue numbers displayed. "Pagination" simply adds a dotted line at the bottom of every page of the script page to show you when writing where the page ends, This again is a personal option: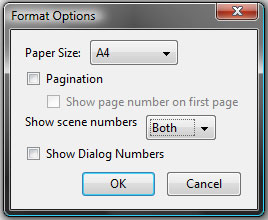 Now, to save time – assuming you already have your story and characters all ready worked out, you can "add" all your characters to the catalogue at the start of the process for convenience sake.
 To do this go to the "Project Library" box on the left hand side of the screen and select "Add Item":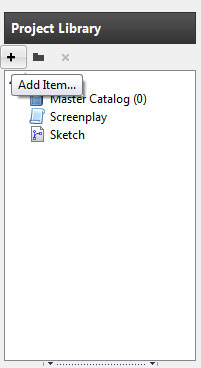 Then select "Character" from this list and simply enter the name of the character(s):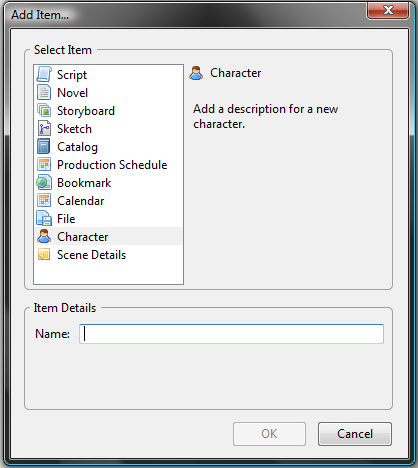 You can do this other items as well at this point if you so wish or you can add them as you go along.
Now, you are ready to begin writing your script which we will look at in the next instalment of this guide. Click HERE for that.
Until then, thanks for reading!