You will know that OVFM meetings are cancelled until further notice and should have seen messages sent via email and on this site suggesting various club-related activities that members might undertake during the period that we are not meeting.
One of these was to get to know the OVFM website better and avail yourself of its various facilities.  We know that many of you do not access the website often, in part because you find it difficult to login and navigate around, so we have devised an activity which we hope you will enjoy and which will also be very useful for OVFM.  It will require you to go into the Members Only section of the website and there will be help available if you have difficulty with this.
So what is the activity?
One of the main features of our annual Spring film shows is the Newsreel, a look back at the events that took place across Orpington and the surrounding areas in the previous year. These might be specialised public events, like the opening of a new shop or community centre, a parade or festival, or a general look at social or climate issues like elections and heavy snowfall, etc.
We are uploading all our past Newsreels via our Vimeo account where they can be viewed in the Members Only section of the website.  This is a wonderful collection and we hope you will enjoy watching them and that they will bring back memories of events that you may have forgotten about.
That is the primary reason for creating this activity and we hope that you will also look at the Tutorials and other material in the Members Only section. But there is also something that you can do for OVFM while you are watching them.
We would like to compile a series of Historic Newsreels to air at future film shows, probably in the Autumn Show, which will feature the best of the segments from all the newsreels we have available from the last 30-plus years.  We will look at votes cast across all Newsreels to produce these compilations, and will also select the highest scoring clips overall to produce The Ultimate Newsreel which we will show at a club evening once meetings start again.
All the Newsreels can be accessed via the Members Only Section and YOU will be the ones deciding what will be included.
To do your bit, head over to the main menu on the top left hand side of the screen, hover your cursor over "Members Only", select "Ultimate Newsreel" from the dropdown menu: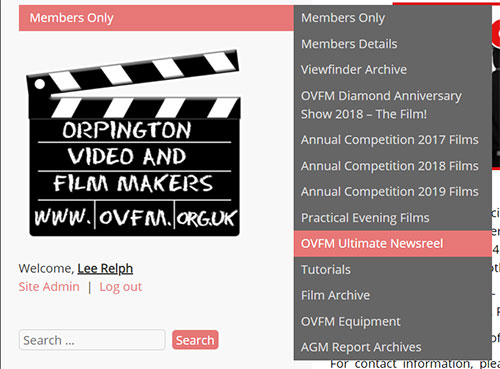 Or you can click HERE (if you are already logged in – a new window will open) where you will find everything you need to know about how to cast your vote.
If you have trouble logging in to the Members Only section click HERE for an illustrated tutorial, or if you require further help please call either David Laker (01689 834820) or Andy Watson (01322 553986) and they will try to help you.  For this you will need to know your OVFM login name and password.  If you do not have these please email Lee Relph and he will send them to you.
We want you to feel active, and as included as possible with this project so do come back to look at more Newsreels as often as you like, as the list will be regularly updated until every available newsreel has been uploaded.
Here's a little taster from 1987:
Thanks for reading, now get watching and get voting!