This week's meeting sees us handing over the reigns to someone else as we welcome a guest speaker to share their wisdom and knowledge of filmmaking.
Stepping up to the plate is Tim Jones, who will be familiar to some of the longer tenured club members as he was once one of us.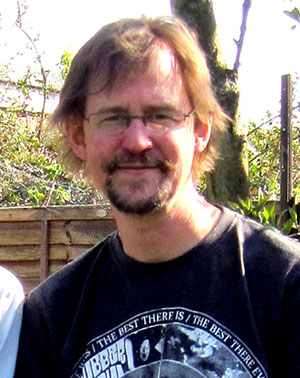 Tim, son of Colin Jones, nephew of Thorvald Nlodvisson, the son of Gudleif, half brother of Thorgier, the priest of Ljosa water, who took to wife Thurunn, the mother of Thorkel Braggart, the slayer of Cudround the powerful, who knew Howal, son of Geernon, son of Erik from Valdalesc, son of Arval Gristlebeard, son of Harken, who killed Bjortguaard in Sochnadale in Norway over Cudreed, daughter of Thorkel Long, the son of Kettle-Trout, the half son of Harviyoun Half-troll, father of Ingbare the Brave, who with Isenbert of Gottenberg the daughter of Hangbard the Fierce, first joined OVFM when he was just a foetus and was making films before he could even walk. After graduating from nappies Tim won his first SERIAC award and became the one of the youngest members ever of the IAC to become a Fellow. Now able to walk by himself and earn his own pocket money, Tim is a senior lecturer at Christ Church College Canterbury in the Film and TV department, which is located round the back of the main building next to the dustbins.
Tim will be sharing with us memories of his time as an OVFM club member along with an illustrated talk on the origins of amateur film making. And if there is time perhaps we could encourage father and son to recreate their famous fan dance that won them second place in the "All Comers Humiliate Yourself For A Plastic Trophy Worth About 2 Pence" contest at Butlins in 1974 (narrowly beaten by Pinky the flatulent hamster).
You have been warned.