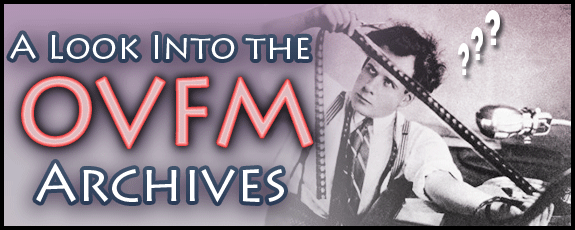 Once again we devote an evening to the wonders that lay tucked away in the club archive.
Hopefully you've all had a look through the current archive lists (in the members' only section) and sent your request to Andy "Elementary My Dear" Watson and picked the films made by OVFM members past and present that you wish to see again.
I personally have nominated our North vs South entry from last year "Power Corrupts" since it has never been shown to the club before. Since most of us all sweated away a few stone during its making last summer I think we should see the fruits of our labours, don't you (even if it didn't win)? 😉
Andy won't be with us on Tuesday as he'l be watching the World Cup instead but he has agreed to compile a programme for us based on our requests so if you haven't done so already please, have a quick trawl through the archive lists and send Andy your choice to him ASAP! *
OVFM archive evenings are always a rich source of interest from both a technical and historical point of view, so I hope you will forgo watching a bunch of overpaid, illiterate, thuggish prima donnas kicking a bit of leather about to join us for what promises to be an entertaining evening!
**EDIT**
As you can see from Andy's reply below the deadline has now expired for making requests so if you missed out, please don't contact Andy but do keep it in mind for our next archive session! Thanks!