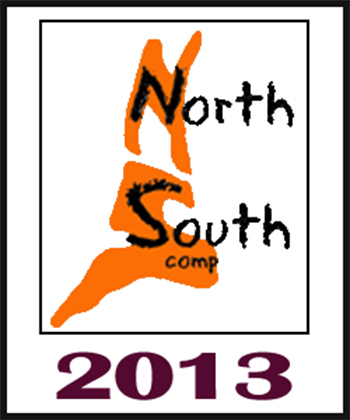 At the June 11th club meeting we officially began our campaign for the 2013 North vs South competition, where we opened the floor to members to submit their ideas for a film based on the theme of "Revolution". More details about the North and South competition can be found on their website HERE.
As we heard from our resident N vs S organiser Mike Coad, this year's competition takes on a lightly different tact with regard to the results of the two heats. First the number of heat rounds will be streamlined to to just one per region. Previously the winners of the two heats are announced then go head to head with the highest scoring runners up at the grand final on November 24th. This year the results are to be kept secret, known only to the two heat organisers (Mike and Graham Morris, his counterpart at Altrincham Film Makers).
At the final, as many films as possible out of those that didn't make the the top ten will be shown first, then the top ten films will be shown in descending order of merit from ten to one, thus keeping the suspense alive to the last minute.
So, as the cliché goes, we have to be in it to win it and we currently have three ideas on the table for the club to get involved in to bring to life, enter into the competition and, who knows, win the whole thing!
To learn more about the three projects – including  draft scripts and cast and crew positions that need filling – and to pledge your support to them or offer comments and feedback, click on the links below.
Please note that these pages are private so only club members who have signed up to the site can see this material contained within.
DELETED
DAVID LAKER – POWER CORRUPTS  – Updated 13/7/13
DELETED
Remember this opportunity is open to everyone and it would be nice to see as many people as possible participating in these projects rather than the usual subjects (to whom we are naturally grateful for their persistence and constancy in supporting our film shoots). With three projects on the table there are plenty of roles that need filling on both the cast and crew side so nobody should feel left out.
Thanks for reading and I hope to see you all on one of the shoots!