REG LANCASTER
REG LANCASTER PICKS HIS FILMS for the Lido Cinema on a desert island near you.
When Lee first asked me to list my five favourite films. I almost refused. Only  FIVE ! After some hard politicking, and some abject grovelling I got him to up ten!!
After a lot of fun choosing, here is my list of films that I'd take to the Lido Cinema on the beach of my desert island… and I admit to having changed four already!
10. Bridges of Madison County (Dir. Clint Eastwood 1995)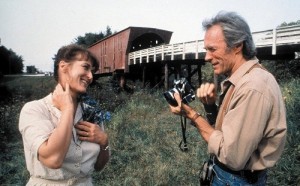 A far cry from Harry Callaghan or Westerns. He plays a photographer who asks directions from farmer's wife Meryl Streep. They're terrific in a simple love story that ends when her husband returns. In  a downpour Eastwood stops at the only traffic lights in town. The farmer's car stops, too. She watches Eastwood, who hasn't seen the farmer's car before. The lights change. Eastwood turns off to the Highway. Not a dry eye in the house!
9. Richard III (Dir. Laurence Olivier 1955)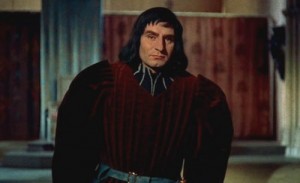 Nothing beats the Bard and though I love the Lancastrian Henry V, I prefer this evil son of York. Richard's confidential asides to the camera involve us in his scheming, a real break-through. Whenever  I'm sickened by glottal stops, dropped aitches and other linguistic twangs and horrors, this one sooths the lug'oles. English as she is spoke, indeed.
8. E.T The Extra Terrestrial (Dir. Steven Spielberg 1982)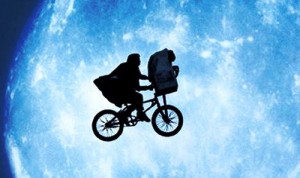 The feel good film of them all. Moments of sheer magic. Even Shrek comes a sad second for ugliest hero in the movies title. The cycle chase one of the best ever, the "keys man" a great villain, and  ET and Elliot's relationship is wonderful. Aaaah!
7. Singin' in the Rain (Dir. Stanley Donen 1952)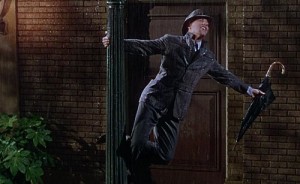 A movie about the movies. The best songs and  dance numbers. Sixty years later  O'Connor still makes 'em laugh, Debbie Reynolds is cute as ever and  Cyd Charisse's legs still amaze. As for Gene Kelly …  
6. War and Peace (Dir. Sergei Bondarchuk 1967)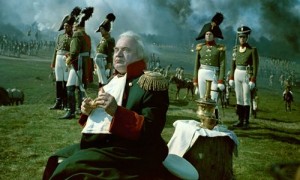 This 10 hour epic (made in Sovscope 70 mm, not  in 3 camera Kinopanorama as I believed for many years!) version of Tolstoy's masterpiece ran in 3 parts in one cinema in Paris for 2 years. Breath-taking. It made such an impression on our daughter Heather that 6 yrs later, living, studying and working in French, where "H" and "Th" sounds are so difficult to pronounce, she began to use ( still does) Natascha as her professional name after the iconic heroine of this film. Many unforgettable scenes. Battles of epic scope.
5.  Psycho (Dir. Alfred Hitchcock 1960)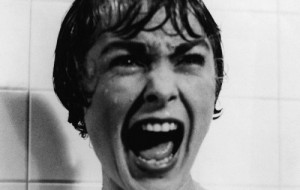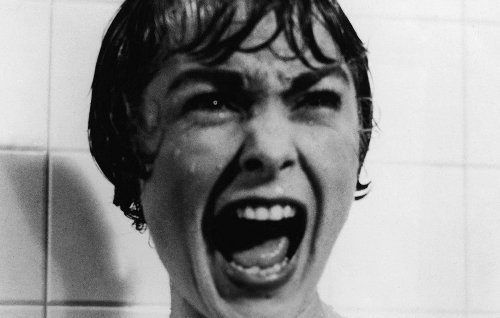 A ground breaker. If you missed its first run, you cannot imagine how uneasy, even scared our "cinema generation" felt once the lead, Janet Leigh, was dead after just 35 minutes. Imitated a thousand times. Never equalled.
4. The Jungle Book (Dir. Wolfgang Reitherman 1967)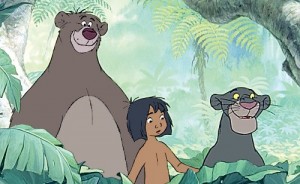 The last film with Walt Disney's input. I've watched it lots of times thanks to grand daughter, Roxane, who loved it as a child, and still watches it every time she visits us. Never fails to make us laugh and feel happy. Fantastic songs, fabulous characters, Baloo, King Louie, Kaa the snake and the Scouser vultures. It's wonderful.
3. Das Boot (Dir. Wolfgang Petersen 1981)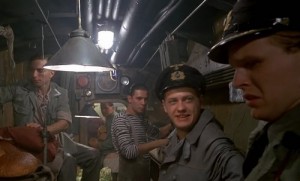 The German TV epic story is seen through a Naval correspondent's eyes, as he joins a U-Boat crew's tour of duty leaving Brest. A claustrophobic harrowing tale with a cruel twist. They survive a nightmare trip to make it back just as bombers attack the submarine pens at Brest. Best war film ever.
2.  Once Upon a Time in the West (Dir. Sergio Leone 1968)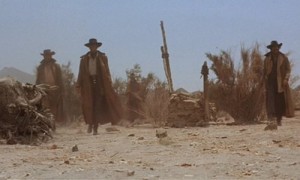 Stylised, stylish and innovative (Henry Fonda as a baddie?) I'd have to have a Western and great music. A brilliant cast, close-ups to die for, haunting themes from Ennio Morricone and a mystery not resolved till the very end. Great.
No1 –  Lawrence of Arabia ( Dir. David Lean 1962)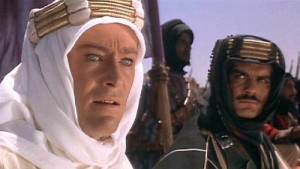 A no brainer. Still the best of British direction, cinematography, editing and acting.  Watch it every year at least once.  I never imagined I'd ever get to the real Wadi Ramm, so in 1994 bouncing through the desert at dusk in the back of a Land Rover, with Annabelle was an unforgettable experience, both exciting, fun and significant, all thanks to Lean's masterpiece.
So there you have it – agree or disagree as is your wont. Thanks for reading and don't forget to check out the lists from other OVFM members!! Click HERE to return to the menu page!