LEE RELPH
Greetings Everyone
Since this project was my idea I thought it only fair to kick things off with my list. I have to say that whittling down the many films I have seen to a selection of just ten was quite a task, not in the least as my tastes have changed and grown quite considerably over the years. In fact, even narrowing things down to a top twenty was equally challenging as there is always that nagging feeling that one has overlooked or forgotten something or there are some films one feels guilty about not including. Many perennials have remained in my Top Ten since I first compiled one many years ago while others have been usurped as my viewing scope widens and new masterpieces continue to touch and influence me, be it on an emotional, intellectual or visual level, in ways that others may not.
Perhaps in a few years this list will be different but for now, here are my Top Ten favourite films:
10. Scum (Dir. Alan Clarke 1979)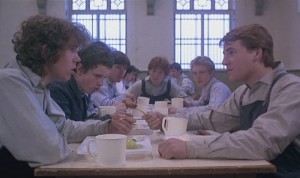 Perhaps not typical "favourite film" material, Scum was the first film I saw to make me sit up and think, and realise that cinema was not just about special effects and belly laughs. It was also the first time where I understood the characters were all a shade of grey and not the usual good vs evil dichotomy I had hitherto been used to. Initially banned until 1983 (as was the original 1977 BBC TV version) this is a raw, brutal and unflinching depiction of life in a British borstal that shocks and appals in equal measures. The story is deep and scathing while the performances – including a career making turn from Ray Winstone – are extremely powerful and convincing. Now a cult classic, this is a viewing experience that still hits me hard today.
9. If…. (Dir. Lindsay Anderson 1968)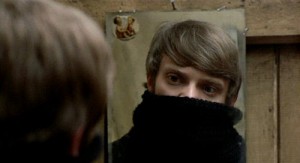 Anderson's seminal satire of the English public school system receiving a kick up the backside from the 60's counter culture, appeals to the rebel in me and also makes me glad I didn't attend public school. Boasting an incendiary debut performance from Malcolm McDowell (in a role that seems to have shaped his acting career) If…. also attacks the class system of this country and Anderson makes no attempt to hide his allegiances. The final shoot out between the rebellious students and the school masters has been often imitated but never duplicated, as the saying goes, and is quite a cathartic moment for those of us who hated our school days I am sure. Sublime.
8. Let The Right One In (aka Låt den rätte komma in) (Dir. Tomas Alfredson  2008)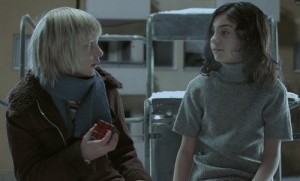 This subtle vampire tale from Sweden is the perfect antidote to the current Twilight epidemic. Adapted from John Ajvide Lindqvist's much darker novel, this film captures the essence of the innocent relationship between bullied Oskar and the mysterious Eli, delivering a touching opus with some chilling and occasionally horrific moments which are handled with class, and thus much more effective that your typical splatter fest. This film appeared as my interest in European cinema was growing, resulting in my viewing net being cast even wider. I could also relate to a lot of the themes in this film explaining the instant connection I felt with it. A haunting film in more ways than one.
7. The Star Wars Saga (Dirs. George Lucas, Irvin Kershner, Richard Marquand  1977-2005)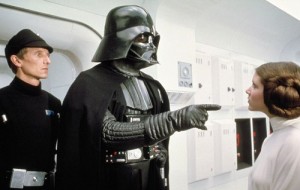 Perhaps I'm cheating a little here by including all six films as one choice but as far as I'm concerned they all belong together – even if the prequels were less satisfying than the originals. For me the first film Episode IV: A New Hope remains the sentimental favourite as it caught me when I was just a wee sprog and never really left me, becoming the first franchise I truly immersed myself in. It was probably also the first film I also saw a "making of" expose on and thus must have wondered "Could I do that too?" I may not reach the dizzy heights of any of George Lucas's timeless and influential epics but I can think of worse measuring sticks to aspire to.
6. Quadrophenia (Dir. Franc Roddam 1979)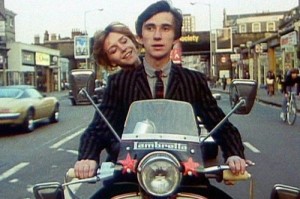 This adaptation of The Who's other rock opera delivers a wonderfully astute coming of age tale that should resonate with teenage audience of any generation. The back drop of the infamous Brighton Beach wars between the Mods and the Rockers in the 1960's is incidental – the theme of searching for identity while running with the pack, teenage angst and isolation are universal and have been explored before, yet the effect was never as real for me as it was here, thanks in part to the natural, pitch perfect essaying of Jimmy from Phil Daniels. I'm sure I'm not alone in finding much of the situations that arise in this film uncannily relatable – except I don't own a scooter!
5. Spirited Away (aka Sen to Chihiro no Kamikakushi) (Dir. Hayao Miyazaki 2001)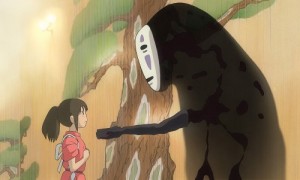 The only Anime film to win an Oscar for Best Animated Film comes from the legendary Studio Ghibli, who have influenced animators around the world, including the guys at PIXAR. If Ghibli are the undisputed gods of Anime then Miyazaki is Zeus and this imaginative, fanciful yet thoughtful film of a ten year-old girl who finds herself trapped in a holiday resort for spirits, is his ambrosia. Ghibli remains one of the few studios to stick with cell drawn animation which adds to the warmth and beauty of the visuals and the natural feel of the characters. This is one of those films that simply enchants the viewer from the opening frame and takes you on a journey I know I'll never forget.
4. Monty Python's Life of Brian (Dir. Terry Jones 1979)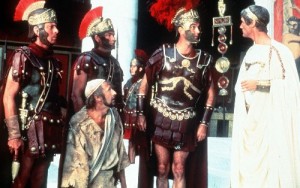 "He's not the Messiah, he's a very naughty boy!"
I'm not sure what is funnier: this film or the furore and outrage it caused upon its release among certain quarters, most of whom hadn't even seen it! Yes, it is a satirical dig at the dogmatic shortcomings of modern organised religion but it is NOT a blasphemous attack on faith or the figure of Jesus; the opening scene defines the path of the film clearly enough. Regardless of its intent, this is a superbly crafted, deeply researched and well written film that sees the Pythons firing on all of their comedic and most irreverent cylinders providing as many memorable and quotable scenes as their iconic TV series did. And not a dead parrot in sight.
3. Battle Royale (aka Batoru Rowaiaru) (Dir. Kinji Fukusaku 2000)
Another controversial premise – a class of school children are sent to a remote island to participate in a three day Government designed game of kill or be killed – makes up the film that opened my eyes to the true scope of Asian cinema. For years, like many, I believed the Japanese only made Godzilla and samurai films until I saw this visceral and oddly touching opus. Never had I seen such a bold and unashamedly brutal work that also carried an incisive political message. It's a clear case of two wrongs don't make a right that is taken to the ultimate conclusion and is brilliantly played out by the young cast as well as the inspired casting of the legendary "Beat" Takeshi Kitano. A stunning and powerful film from which I get something new with each viewing.
2. Duck Soup (Dir. Leo McCarey 1933)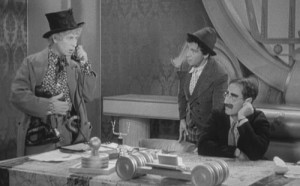 A Night At The Opera may have made more money but this is the film that defines the Marx Brothers for me. The final outing to feature all four brothers, this satire on the petty politics that lead to war was surprisingly not a box office hit yet features some of the best known of the brothers' scenes – including the famous mirror gag (which they nicked from Max Linder) and the final battle scene which has since been borrowed by the likes of Woody Allen. Whether by design or not, this is the only Marx Brothers film not to feature a musical solo spot from Harpo and Chico which in my mind is fine as they would have spoiled the otherwise flawless pacing of this laugh riot. The Marx Brothers were never more on fire as they were in this masterpiece of mayhem.
No 1 – This Is Spinal Tap (Dir. Rob Reiner 1984)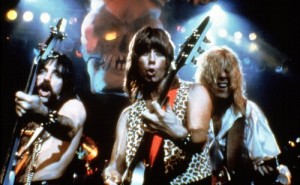 It surprises me that there are still people of my generation who have not seen this inordinately accurate and side splittingly hilarious "mockumentary" about the aging British rock band Spinal Tap on their disastrous 1982 "Tap Into America" US tour. Yet I'm sure most people are aware of the line "These go to eleven" as uttered by Tap guitarist Nigel Tuffnel when bragging about the output of his Marshall amplifiers. This is just one of the non-stop quotable scenes that make up this witty and all too perceptively observed satire born out of a sketch on the long running US comedy show Saturday Night Live in which the American cast all too accurately play the dopey English rockers on the comeback trail which is fraught with mishap after mishap. The script is not just brilliant but the fact it is largely improvised makes it so natural and believable; and the music is great too. Simply put, This Is Spinal Tap is pure genius and after seeing the extensive amount of supplementary material on the special edition DVD that went into making this film as authentic as possible, its place atop my list of favourite films was cemented for good.
And those that didn't quite make the Top Ten (in no particular order):
Love Exposure (2008), A Night at the Opera (1935), Pan's Labyrinth (2006), Hellzapoppin' (1941), Confessions (2010), Seven Brides for Seven Brothers (1954), The Girl Who Leapt Through Time (2006), Gasbags (1940), Superman The Movie (1978), Seven Samurai (1954), The Wind (1928), Nosferatu (1922), Poetry (2010), This Is England (2006), Witness For The Prosecution (1957), Grave Of The Fireflies (1988), Phantom Of The Paradise (1974).
So there you have it – agree or disagree as is your wont. Thanks for reading and don't forget to check out the lists from other OVFM members!! Click HERE to return to the menu page!