CHARLIE CASELEY
To be confined to ten films does make you go over all the movies you have seen over the last seventy odd years, still here goes in order.
10.  On The Waterfront (Dir. Elia Kazan 1954)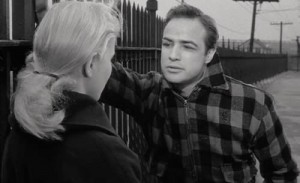 When I was young I lived close to London's docklands and watched the docks go up in flames at the beginning of the blitz. This film depicted life on the waterfront in New York, tough working conditions and corruption and it was this movie that convinced me what a great actor Marlon Brando was. He portrayed a fighter and moved like one, light on his feet moving with grace, mind you there were a number professional fighters staring in the film that could teach him a thing or two.
9. Land and Freedom (Dir. Ken Loach 1995)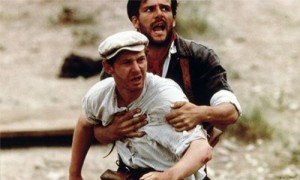 Nobody catches the British working class way of life like Ken Loach and Land and Freedom is no exception even though the film is about the Spanish Civil War. It goes a long way in explaining what it was like to be involved in that conflict.
8. The Apartment (Dir. Billy Wilder 1960)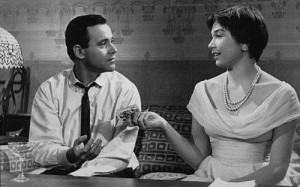 Nellie's favourite film is one of Billy Wilder's greatest movies moving from comedy to pathos seamlessly with marvellous performances from Jack Lemmon and Shirley Maclaine.
7. Sweet Smell Of Success (Dir. Alexander Mackendrick 1957)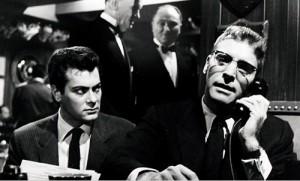 This film was directed by a Brit but you would never know. Alexander Mackendrick, who directed a number of British comedy's, he catches the dark side of New York helped in no small way by a terrific cast, Burt Lancaster and Tony Curtis but also by a great sound track written by Elmer Bernstein and played by Chico Hamilton.
6. The Memphis Belle: A Story Of A Flying Fortress  (Dir. William Wyler 1944)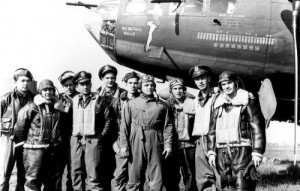 Being a great admirer of the documentary I have selected Memphis Belle as my favourite movie of this type, I am not talking about the film that was produced by David Puttnam, I am referring to William Wyler's film about the last flight of the B17 Memphis Belle. Wyler put a film crew on the Flying Fortress, all right it was made because of American concern about their losses over Germany but it is film that puts you in the heart of the cockpit with the crew. Shots from the film have been used in other films like 'Twelve O'Clock High.'
5. Battle Potemkin (Dir. Sergei Eisenstein 1925)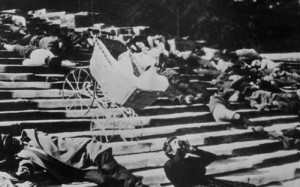 Sergei Eisenstein directed the film depicting an uprising by the Russian navy in 1905, and though it could be said it was a propaganda movie it certainly was innovative in the way it was filmed, remember the pram scene in the New York Metro in the 'The Untouchables', it was done first in Battleship Potemkin.
4. Monsieur Hulot's Holiday. (Dir. Jacques Tati 1953)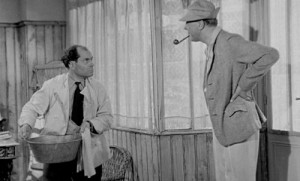 My brother in law told me to go and see this film and I am glad he did, it is a brilliant. Jacques Tati superb as director and actor.
3. Seven Days In May (Dir. John Frankenheimer 1964)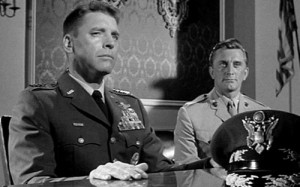 I enjoy political conspiracy thrillers and this movie was one of the best. Again I had read the book before I had seen the film. Directed by John Frankenheimer this was great film of its type.
2. The Godfather (Dir. Francis Ford Coppola 1972)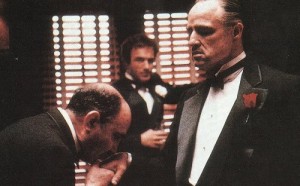 I had read Mario Puzo's book before I saw the film. And to really understand the film you have to read the book. The book incorporates part 1 and part 2 of the saga of organised crime concerning the Mafia.
No 1. Citizen Kane (Dir. Orson Welles 1941)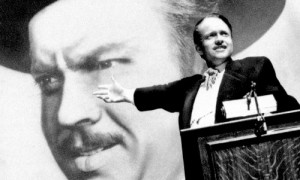 This has always been my favourite film, the way that power is abused by the press and is particularly relevant at this moment in time over the scandal at News International. Most people thought the film was about William Randolph Hearst the Rupert Murdoch of the time.
So there you have it – agree or disagree as is your wont. Thanks for reading and don't forget to check out the lists from other OVFM members!! Click HERE to return to the menu page!