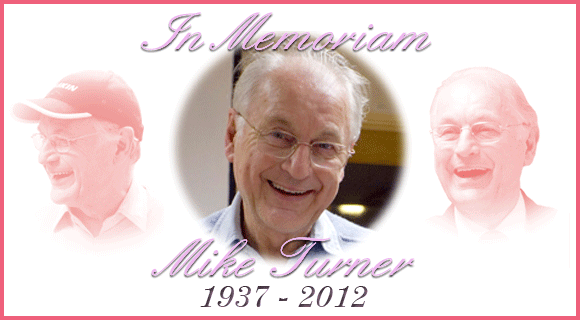 Mike Turner, FACI 1937-2012
Mike Turner, FACI who died on 24th Sept. after a short illness, joined Orpington Video and Film Makers (OVFM) in 1992, becoming Chairman in 1997, a seat he held for the next 13 years. He was currently Vice Chairman.
Surrey born, Mike was evacuated to Wales in WWII. After National Service in the RAF he became an underwriter with Commercial Union. Once retired, he ran the shop at a local golf course. Always a keen footballer, cricketer, and a film fan. Mike loved Chelsea, Surrey and Doris Day.
In 1980 he was a founder member of the Orpington and Chislehurst Centre of the National Trust, filling various roles and was currently Vice President. His wife Sue is their Archivist. As leader of their fund-raising team, an early project involved Ightam Mote, the medieval moated manor house.
At OVFM, Mike's first filming success was Charles Henry Robinson about the American who came across Ightam when cycling around Kent in the 30's. He so loved the house, that he bought it in 1953 and donated it to the Nation in 1985.
Mike was a crucial factor in OVFM's recent development. Though most hobby organisations are struggling to halt falling numbers, the club's membership has almost doubled in the last decade, thanks partly to the Turner effect.
He loved people, never forgot a name, one of those rare individuals who brightens a room as they step through the door. His warmth, sense of fun and enthusiasm made everyone feel better when he was around. Visitors often remarked on the friendly atmosphere in our club-room. He was a popular MC, always well prepared, keeping an audience in a good mood.
He was always busy yet, when he undertook a new project, he could summon extra energy to make positive things happen. In 2008 he felt our Golden Jubilee should be celebrated in style, and set about organising for 35 members to fly over to attend the Guernsey Lily Festival, to visit the Odeon Leicester Sq., planning two Film Shows that raised £2,100 for local charities, and even unearthed our Founder in Spain to attend the Jubilee Dinner.
When the Kent Festival was in danger of failing, it was typical for Mike to chair the rescue group who saved it and was always 100% involved in its renewed success.
100%, that was the Mike Turner way. He will be greatly missed. Our thoughts go out to Sue in her loss.
Reg Lancaster,
OVFM .