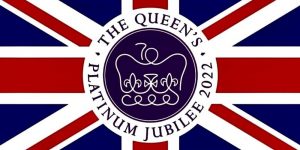 As you may be aware, Mrs. Betty Windsor of London SW1A has been on the throne for 70 years and the nation are going to celebrate this milestone achievement by blocking the streets and making loud noises of the festive variety. Never ones to rest on our laurels (or our hardys) OVFM is looking to compile a special Platinum Jubilee Newsreel for our Autumn Show in October.
This is where you club members come in. We are encouraging you to get your cameras out of the closet where they've been hibernating since COVID began, go forth into the streets, and capture as much footage as you can of the events taking place in your local area. hopefully, different parts of the borough, and the country at large, will have their own ideas of how to celebrate which should make for an interesting and diverse newsreel – provided we have the footage!
For starters here is what happening in Orpington courtesy of Orpington1st website:
http://www.orpington1st.co.uk/events/d/151561/queens-platinum-jubilee-celebrations/
Thursday, Jun 2nd 2022 From 10:00am to 22:00pm at Market Square, The Walnuts, Orpington, BR6 0TW
Beginning with a live screening of the trooping of the colour at 10:00 am, the day will conclude with the lighting of Orpington town centre's official Jubilee Beacon at 9:45pm and a firework display as we join the rest of the country in this momentous occasion.
Meanwhile, our chair Jane Oliver submitted this for the events taking place in Hasltead:
Saturday 23rd April 10.30am to 12.30pm – Scarecrow workshop in The Parish Room
Saturday 21st May – Scarecrows display begins
Thursday 2nd June 9.45pm – Lighting the beacon at Southdene, prior to which there's a party in the Village Hall (free entry)
Thursday 2nd June – Option to enjoy supper from The Frying Squad
Friday 3rd June –  Various street parties
Saturday 4th June 3pm to 6pm – Cream teas in The Village House garden with entertainment from the Halstead Players and judging of the Scarecrow competition
Sunday 5th June – Commemorative service followed by a big lunch on the recreation ground, bring your own picnic or enjoy a Hog Roast (ticket purchases only)
Follow The Corgi Trail!
Ever fancied being a detective?
The Queen has over 30 dogs, mainly corgis.  These have apparently escaped and are hiding around the village!  See if you can find them and write their names down on the official form.  There are prizes for the most Corgis found!  No cheating, she hasn't got that many!
If anyone else has any notices to share, do please let me know via email and I shall add them to this page.
Thanks for reading and have fun anyone attending any of these events.