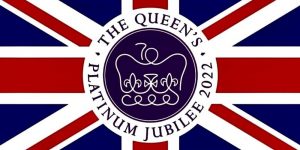 As you may be aware, Mrs. Betty Windsor of London SW1A has been on the throne for 70 years and the nation are going to celebrate this milestone achievement by blocking the streets and making loud noises of the festive variety. Never ones to rest on our laurels (or our hardys) OVFM is looking to compile a special Platinum Jubilee Newsreel for our Autumn Show in October.
This is where you club members come in. We are encouraging you to get your cameras out of the closet where they've been hibernating since COVID began, go forth into the streets, and capture as much footage as you can of the events taking place in your local area. hopefully, different parts of the borough, and the country at large, will have their own ideas of how to celebrate which should make for an interesting and diverse newsreel – provided we have the footage!
Here is a selection of events taking place in and around the borough that we hope members will be able to attend and film for us:
---
Orpington's Platinum Jubilee Celebrations – 

2nd June –

Market Square, Orpington

 10:00am – 22:00am
With the high street decorated red, white, and blue, start your extended bank holiday weekend in Market Square for a full programme of entertainment, beginning with a live screening of the Trooping of the Colour and concluding with the lighting of Orpington town centre's official Jubilee Beacon and fireworks.
Open to public, no booking required Find out more: https://www.orpington1st.co.uk/events/orpingtons-jubilee-celebrations 
---
The Knoll Jubilee Weekend

– 2nd June – Broomhill Common, Broomhill Road, The Knoll, Orpington
There will be a church service a St Johns Church at 8.30pm followed by a parade to Broomhill Common where a jubilee beacon will be lit at 9.45pm
5th June 2022. A community picnic on Broxborune common from 12pm.
Open to public, no booking required Find out more: http://www.theknoll.org.uk
---
Halstead Celebrates Her Majesty – 2nd June – Southdene, Halstead, Sevenoaks – 7:00pm
Halstead Parish Council will be Lighting the Beacon on Southdene from 7pm.
Come and enjoy a glass of Pimms and a few nibbles – perhaps get your supper from The Frying Squad and eat it in the Village Hall or, if a nice evening, out on the green. Entertainment from the village choir, buglers and pipers plus crafts activities for the kids ( young and old).
The Big Lunch – 5th June – Recreation Ground, Halstead, Sevenoaks – 2:00pm
Halstead Parish Council will be hosting a BIG LUNCH on the Recreation Ground from 2pm on Sunday 5th June.
Buy a ticket for a Hog Roast or bring your own picnic. Activities for the kids ( young and old) refreshments and a whole load of community spirit.
Open to public, no booking required Find out more: https://www.halsteadparish.org.uk/local-information/queens-platinum-jubilee
---
Queens Jubilee Family Fun Day

– 4th June – High Street Sidcup
A selection of activities and entertainment including a trail to find the Queens jewels with prizes to be won, a fancy dress competition, free hair braiding, free face painting and free balloon modelling as well as live entertainment and stalls including pie and mash, ice cream, free candy floss, free souvenir photo, free sweets and books as well as Arts and Crafts.
Open to public, no booking required Find out more: http://www.sidcuppartners.co.uk
---
The King with Dirty Feet and Other Royal Stories – 4th June – Sidcup Library, Hadlow Road, Sidcup -2:30pm
Storyteller Sally Pomme Clayton performs royal fairy tales to celebrate The Queen's Platinum Jubilee 2022. Free tickets available in advance, in person from the library where the event is being held.
Open to public, advance booking/ticket required Find out more: https://www.eventbrite.co.uk/o/bexley-libraries-7939598856
---
Queen's Platinum Jubilee Picnic In The Park – 5th June – Swanley Park, New Barn Road, Swanley 
A Piper will play the Diu Regnare prior to a Beacon being lit. 
There will be free entertainment in Swanley Park including Punch and Judy shows, Juggling, Fire Eating, Children's Races and singing.
Open to public, no booking required Find out more: http://www.swanleytowncouncil
---
Hollingworth Road Street Party – 5th June – 37 Hollingworth Road, Petts Wood
Closed/private event for residents of Hollingworth Road Find out more: hollingworthstreetparty@gmail.com
---
If anyone else has any notices to share, do please let me know via email and I shall add them to this page.
Thanks for reading and have fun anyone attending any of these events.