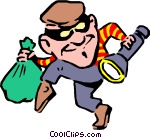 Are YOU a thief?  Do you add music to your films without permission? Do you use pictures from   other sources such as professional films, magazines or the Internet?
Then more than likely you are breaking somebody's copyright protection, and that's illegal!
Don't assume that it really doesn't matter because nobody will know about "little me',  because whenever our films get shown outside our home we never know who might be in the audience ready to ask questions.
Although the club has a copyright clearance licence it covers only approved club productions, individual members are not covered by this licence.
Full information about this subject can be found on the IAC (The Film and Video Institute) web site: