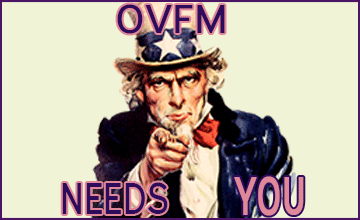 Per the Legion of Doom, aka the OVFM Committee, a request regarding the programmes for future club meetings held via Zoom:
We need everyone's help to provide material for future zoom meetings. In fairness, everyone will be given the opportunity to show one of their films or if they're not a filmmaker to select one from the archive to show. This will build up a catalogue of films ready for zoom meetings.
Each person can introduce their film or choice of film, say why they picked it, why they joined OVFM in the first place, what's the value in belonging to OVFM and what they've learnt along the way.  You might want to make suggestions to encourage those new to filmmaking on how to go about getting started or how to get involved in some other aspect; they may already be a talented actor, actress or writer.
We need you to respond as soon as possible to give the archivists time to make the films available. The archive lists can be found HERE in the Members Only Section, so make sure you have your passwords handy if you are not logged in.
We value your contributions to your club and thank you all in anticipation.