THE RESULTS
Hello and welcome to the annual OVFM Oscars Results report.
The 2014 OVFM Oscars took place in front of a bored audience at the Barnard Room, St Augustine's Church on a somewhat chilly night but that didn't stop them dressing up in their best glad rags for the events. Actually it did stop a few of them – names have been noted and the lads will be round later to "have a word"….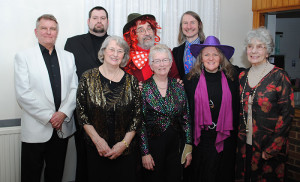 We were fortunate enough to be joined by two of the judges from Haywards Heath Movie Makers Ron Prosser and David Fenn while third judge Rod Willerton clearly had something better to do. Hope those toenails are now nice and neat Rod! Ron and David seemed to enjoy themselves – assuming banging your head against the wall screaming "get me out of here" is a Haywards Heath way of expressing pleasure that is!
As is the case in many awards ceremony one film or filmmaker will often dominate the voting usually leading to commensurate rewards. This year it was our chairman Simon "Snapper" Earwicker who was the big winner, taking home almost every award except for Best Hair, Best Costume, Best Use Of A Pineapple and Best Film Not In The Martian Language.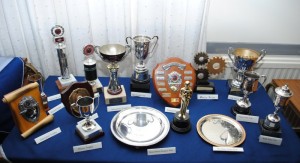 So onto the results which look like this, starting with the awards as voted for by us lot at OVFM:
Kath Jones Cup (Joke film under five minutes)–Winner: ATM Wobbler by John Bunce
Vic Treen Cup (Film set to music) – Winner: Sundays Down The Lane by Basil Doody
Mike Turner Plate (Film under sixty seconds) – Winner: Stop Motion by Simon Earwicker
The 2013 Top Ten Competition – Runner Up: The Artist by Mike Shaw
                                                        Winner: The Village Mosaic by Barbara Darby
We then moved onto the Annual Competition Awards as judged by Hayward's Heath Movie Makers.
Jubilee Shield (Film under five minutes) – Winner: Two Little Words by Lee Relph
Raasay Trophy (No special category) – Winner: Stop Motion by Simon Earwicker
Alice Howe Trophy (Documentary) – Winner: Cakes And Onions by Ann & John Epton
Reg Lancaster Trophy (Funniest Film) – Winner: The Artist by Mike Shaw
Heyfield Trophy (Sound) – Winner: Stop Motion by Simon Earwicker
Rene Morris Penguin Plate (Photography) – Winner: Memories Of Costa Rica by Barbara Darby
Vincent Pons Shield (Fiction) – Winner: Power Corrupts by David Laker
Priory Trophy (Editing) – Winner: Love And War by Simon Earwicker
Arthur Woolhead Trophy (Animation or Visual Effects) – Winner: Stop Motion by Simon Earwicker
Orpington Trophy (Best Film Runner Up): Love And War by Simon Earwicker
Ian Dunbar Cup (Best film) – Winner: Cakes And Onions by Ann & John Epton
High Commendations: Campdowne by David Laker
                                        Killer Hand by Barbara Walker
Commendations: High Street Fun by Ann & John Epton
                               I'm Not A Celebrity…Get Me Out Of Here" by Hugh Darrington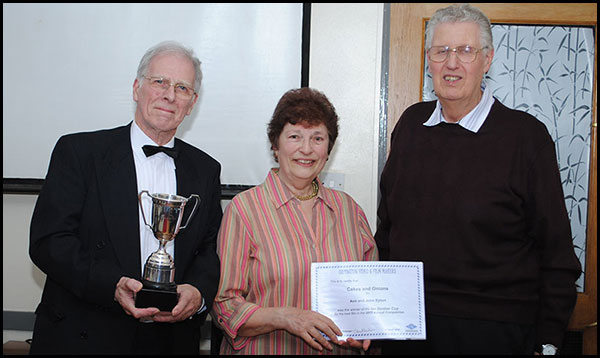 And that is it for another year. Congratulations to all the nominees and the winners and we'll be doing it all again in 2015 to see who will reap the rewards for the next twelve months of film making
Thank you and good night!