ANNABELLE LANCASTER REPORTING:
From time to time we're asked to send a showreel to another club, like the one we saw from Newcastle recently.
With the sad loss of Tom, our Librarian, and the setting up of the archive, we haven't had one available for the past few months so Freddy has been using our Golden Jubilee programme which has been well received.
The chairman of Staines Cine & Video Society has written:
"The films provided a fascinating evening's entertainment and it was interesting to see both how much things have changed yet how techniques employed nearly 50 years ago stand the test of time. "One Minute to Go" was a perfect example of this. The commentary and interview gave the film structure which was superbly illustrated by well-chosen clips edited together to make little stories in their own right. There was an excellent variety of shots, both in terms of content and camera angles and none of these lasted more than a few seconds – something we associate with more modern film. Jeremy Holder, my predecessor as chairman, was lucky enough to be invited as a VIP guest to the paddock at the British grand Prix a week ago. Somehow I suspect he didn't get quite the access Vic Blackman received!
All the short comedies went down well. Members commented that they benefitted from the actors not "over-playing" their roles – a common fault with many amateur comedies.
Other films which stood our for me were "Field Trip" and "Cheese Roll" and I never tire of seeing "Remote Control" which I was surprised to discover most of our members had never seen.
There was some (though not much) evidence of how equipment has improved the technical quality of films over the years, but what really came across is something we all know: It's the content that really matters.
Many thanks for letting us enjoy your Golden Jubilee, and I wish Orpington FVM every success for the next 50 years."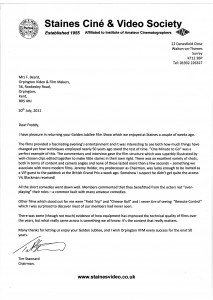 Happily, we're now in the position of being able to produce fresh showreels in future so are all set to publicise our more recent work.
Annabelle Lancaster