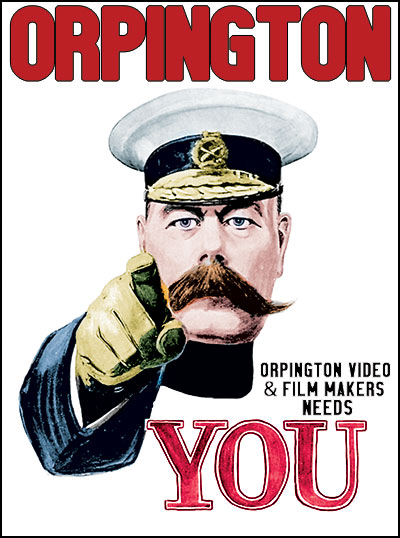 OVFM is proud to be one of the oldest amateur filmmaking clubs in the UK and with an extensive archive of films covering many genres, styles and records of local events and we aim to carry on as long as there are stories to tell and things to film!
However, at this present time we would also like to ask for your help with this.
Covid 19 and the lockdown will clearly be major events to include in our 2020 Newsreel which will be part of next year's OVFM Spring Show, but because of lockdown our members are unable to be out to do much filming.  We would therefore like you to take films on your mobile phone, DSLR camera or camcorder and send them to us so we can include as many as possible in the newsreel.  These can be of anything related to Covid 19 and the lockdown e.g. empty high streets, queues outside food shops or chemists, Clap for the NHS, family video calls, or special activities you've set up in your home or garden.
To fit with the way we produce our films will you please shoot in landscape format i.e. holding your phones horizontally if possible.  The footage will probably be too much to send via email so please use any of the free file transfer systems such as WeTransfer to send films to info@ovfm.org.uk    By sending your films you give permission to use all or part of them in producing OVFM films.  We will be happy to acknowledge your contribution at the end of the film if you advise us that you would like this.
If you wish to learn more about OVFM, feel free to look around this website for further information, where you can get an idea of the sort of film projects we undertake as a club.  If you have any queries then please contact our chairman Jane Oliver via e-mail at info@ovfm.org.uk or follow OVFM via social media on FACEBOOK – Orpington Video & Filmmakers or TWITTER – @OVFMUK for news updates or to reach out and stay in touch with us.
Similarly, If you would like to be reminded nearer the time about our Autumn Film Show or to reserve tickets for this event again please email Ron Williams at info@ovfm.org.uk
Thanks for read!ng.