For our next club meeting we invite another visitor to share with us his experiences and expert advice in the world of amateur filmmaking, albeit this time with a little twist.
(bio courtesy of Annabelle Lancaster)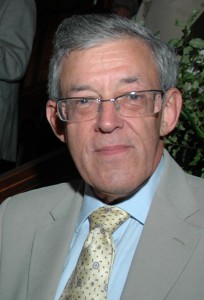 Our guest speaker, Mike Whyman FACI, had a very varied career from technical assistant at the BBC through to making around 400 video programmes for the National Coal Board.
From there he eventually went to JVC just as the Japanese company was launching VHS and, in so doing, bringing about a revolution in the way that TV is consumed. Mike's role there was to offer advice, guidance and some video facilities to the public at the Video Information Centre in London and that, in turn, led to his involvement with the IAC and with affiliated clubs.
A keen amateur himself, starting with Standard 8 film, Mike has maintained his contacts with the IAC and is a regular visitor to BIAFF and the AGM weekends. He has also acted as a judge in a number of IAC competitions at club, regional and national levels.
He calls his talk "Video Formats I've known and loved."
So make sure you come along this Tuesday to hear the wit and wisdom of Mike Whyman for yourself.