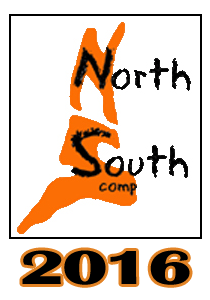 It's brain cells at the ready for the next club meeting as we are required to bandy around ideas for films to make and enter for this year's North vs. South competition!
The theme is "Out of the Blue" which is one of those wonderfully nebulous titles that lends itself to a myriad of possibilities and interpretations. And with the many creative minds we have in OVFM there is plenty of fertile ground to be cultivated into some great film ideas.
Similarly OVFM has the opportunity to work with a living breathing dinosaur! Well sort of… Our former chairmen Chris Coulson is now handler to a T-Rex named Dexter and has offered to allow our cameras to capture Dexter on film! If you haven't guessed by now this means that we need some script ideas to give Dexter something to do whilst on camera.
Therefore tonight is a double whammy of brainstorming ideas and with two different subjects to ponder – or maybe we could combine them into one? (Hint: perhaps someone already has? 😉 ) – we should be in for a productive night!
See you then!