GREEN SCREEN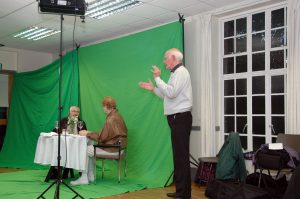 It's time to get practical again with an old favourite, the green screen filming evening! We did a couple of these last year and they yielded some interesting responses from club members in using the clips in different settings, as well as earning some of the makers an award at this year's OSCARS!
Whilst last time we ran with the restaurant theme, this year the reins have been loosened a bit to offer a wider scope of interpretations for the backgrounds any willing editors will wish to apply to the clips that will be based on script ideas from David Laker and Hugh Darrington – the latter bringing his own bus stop prop!
As ever we shall be looking for volunteers to fulfil both production and performance roles for this evening. I shall be bringing my clapperboard, but we'll need camera operators, boom operator/sound recorder, actors, help in setting up the green screens, sets and pops , and additional scripts if we have time. 
Please let us know how you want to contribute by leaving a comment below – the more the merrier obviously, but we'd prefer not to have 20 people with cameras and no-one to hold the boom mic!
We hope everyone can join us for what looks to be another fun and productive evening at OVFM!