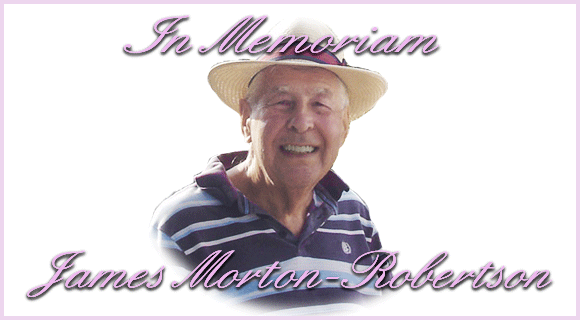 As you may have been saddened to learn, one of our longest serving members James Morton-Robertson passed away recently from Leukaemia.
 James Morton-Robertson – Memories from Jane Oliver Chairman of OVFM and personal friend of James.
James Morton-Robertson was born on 11th August 1937 and was proud of his Scottish heritage.  His broad Scottish accent never left him. As a young man, Jim studied to become a design draughtsman and was part of the production team for the electronic newscaster advertising boards like the one at Piccadilly Circus.  Subsequently he set up his own computer software and consultancy business.  This is where I first came across him.
Some 20 years ago, whilst searching for a firm that could provide a computer with video editing software, I came across Amplix Services, Jim's business and went to see his edit suite set up.  It was impressive.  Soon I was parting with my well-earned cash.  Jim built a high spec graphics computer capable storing and editing huge video files, loading all the software. He provided ongoing support, right to the end of his life, something that cannot be bought.
He ran the 'Kemsing Video Club'.  I began attending these meeting at his house with his wife Jennifer, Barbara Darby and other like-minded folk. We watched one another's films and discussed how they could be improved. Jim's feedback was blunt, to the point, even harsh at times, but it was honest and what I needed in order to learn and develop my filmmaking skills.
James was an accomplished and skilful film maker who enjoyed a challenge.  Using his technical 'know how', understanding of camera settings, editing tools and programs, he became an award winning film maker.
At OVFM, he wrote articles in the club's 'Viewfinder' magazine, whether to provide training, review software or cinematic films. He took on the 'official' photographer role when asked to.  His creative mind came up with all sorts of stories. Sometimes he was called upon as 'speaker' and I remember a session where he unpicked the famous 'shower scene' in Alfred Hitchcock's horror movie 'Psycho'; absolutely fascinating. As a prolific film maker he made films for almost every project evening, right up to our last meeting before lockdown.
Having travelled the world extensively, he would treat us to his latest adventures. Australia, New Zealand, Oman, Kuwait, Jordan, Barbados, Sri Lanka, France, Spain, Germany, Ireland, the USA, not forgetting the wine route in South Africa.  Another love of his was 'wine'; making it, tasting it and drinking it; he successfully ran the Otford Wine Club for years. With an interest of flying he joined the U3A Aviation section; spending time 'flying' his latest 'simulator' at home.
Jim made films with me, Barbara Darby, Hugh Darrington, his first wife Jennifer and others.  Jennifer sadly died in 2010.  He particularly enjoyed making funny films with Hugh; often using animation and special effects.  These fascinated him.   'The Open Road' in which a two 'slugs', narrated by Jim and Jennifer, set off on the open road one bank holiday, only to come to a grinding halt behind a 'snail' interpreted by him as a 'caravan'.  What an imagination and what amazing animation skills!
In 2015 he married Fran whom he had been friends with for many years.  He was proud to be a Scotsman and wore the full Scottish regalia; 'Robertson' tartan, sporran and all' when he wed Fran.  Now Fran would feature in his films, and 'Jim' became 'James' to me and a few others, but at OVFM he was still known as 'Jim'.
He wasn't shy of acting in front of the camera.  He had us in stitches when he donned his Lycra green suit in order to do a disappearing act.  He stumbled both physically and in his speech when playing a drunkard in another film and Barbara Darby and I could hardly contain ourselves as we filmed James chasing an imaginary fly around the house trying to swat it with a rolled up newspaper for his film 'Obsession'.  He had to have a gory ending, one that would prove he wasn't imagining the fly.  He revealed a nasty squashed mess on the newspaper, generated with the use of 'special effects'.  The credits included a note at the end of the film 'no fly was harmed in the making of the film'!
His popular film 'Whitefella Dreaming' was beautifully narrated by his brother Brian, who having emigrated in Australia as a young man, had the perfect Australian accent to fit the bill.  James made hundreds of films.  We are privileged to have some of them in the archive.  He entered film after film into competitions and with such a broad spectrum, managed to lift every trophy OVFM had on offer, all 12 of them.  Very few of us will achieve this in our lifetime.   James wasn't restricted to filmmaking; he joined the Otford Art Club and many of his paintings adorned the walls of his home.
James taught me to persevere, to take on new challenges and to use gifts; art, storytelling, film making, whatever; to ensure our passion lives on to benefit future generations.
This year, to keep up with the latest technology, he was learning DaVinci Resolve and Fusion, new editing programs that are too difficult for many of us to get to grips with.
The film that meant the most to James was his award winning 'Hampden P1344'; the aircraft in which his father, James Morton-Robertson, the wireless operator, was shot down in World War II.  James was only five at the time his father was killed.  He dedicated many years to tracing one survivor, interviewing him, and to following the finding, recovery and restoration of that aircraft, now at the RAF Museum at Cosford.
Barbeques, quizzes, garden parties, some with strawberries & cream, others with fish & chips, James accommodated them all in his garden; made even more beautiful by Fran's clever and colourful planting.  Chatter, laughter, clanging of glasses is what I'll remember of these occasions, interrupted only by the sound of the Merlin engine of the Spitfire flying overhead, with James admiring it and waving as though it were flying over especially for him.  Indeed he was a pilot, having completed his first solo flight in March 1959 in a De Havilland Chipmunk or 'Chippy' as they were known, whilst in the RAF in 1959, a career he didn't pursue.
James was recently diagnosed with Leukaemia.  He and Fran had hoped they'd get to enjoy at least another six months together.  He had fibrosis of the lungs and sadly developed a chest infection. He slipped away peacefully at Pembury Hospital on 10th July 2020, just five weeks after his diagnosis and one month short of his 83rd birthday.
James was given a wonderful send off, when Fran, unbeknown to others, had a recording played at the end of his service …… yes, the sound of the unmistakeable Merlin engine of the Spitfire, paying a fitting tribute to him.
James leaves a huge void in the world of film making.  We will miss him very much.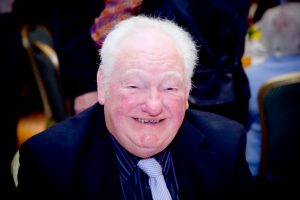 PETER MITCHELL
We also lost Peter Mitchell too, who passed away a few weeks ago in hospital.
Peter MItchell by Jane Oliver
Peter Ronald Michell, was born on 9th July 1936 and enjoyed a happy childhood in the Brockley/Catford area of London.  Peter excelled in maths and on leaving school worked in an engineering factory.  His two years National Service with the Royal Airforce was spent in the Far East and he had fond memories of this time.  On returning to 'civi street' he got a job in the civil engineering department at Imperial College, initially working with concrete and later in administration, where he served on a number of committees and joined the college's Holland Club.  He gave loyal service to Imperial College, whose focus, amongst other things, is in engineering, remaining there for the rest of his working life.   Indeed it was here that he met his wife, Janet. Rumour has it that he wooed her over breakfast! They married at the end of August 1974.
He and Janet travelled throughout Europe and also went to America, during their happy years of marriage.  Janet would spend time focusing on her love of Bonsai, whilst Peter focused his attention on capturing photographic records of these holidays.
Peter belonged to a number of clubs, including dining clubs, computer clubs, camera clubs and OVFM.  His great love was photography.  He always had his camera with him, taking photos, composing each shot to give the best image, developing them and exhibiting them, winning many awards for his work.
At OVFM, whilst he did not produce films, he enjoyed watching those of other club members, joining in constructive feedback to filmmakers.  He was a regular attendee, only missing evenings through holidays or illness.  He introduced us to a speaker from his computer club, Andrew Bishop, a professional animator, who fascinated us with his wonderful mind boggling creations.
We, at OVFM, will remember Peter as a quiet, calm and mild mannered gentleman who, over coffee, would share his love of the Japanese Bonsai garden he had created for and with his wife Janet, whom he adored.
Peter was a Charlton Athletic fan, something he kept close to his chest, maybe having witnessed the banter and torment that rival supporters of Arsenal and Chelsea levelled at one another from time to time.
In recent years Peter was living with the effects of bladder cancer for which he had undergone radiotherapy treatment.  Peter had become increasingly weak and tired.  He spent the last two weeks of his life in Darenth Valley Hospital.  He had suffered a collapsed lung and sadly passed away on 8th June 2020, one month short of his 84th birthday.
Peter will be sadly missed at the club and we offer his wife Janet our sincere condolences.
OVFM sends out condolences to the family and friends of both Jim and Peter and if you have any memories or messages you wish to share about Jim and Peter, please reply to this post below.
Thanks for reading.