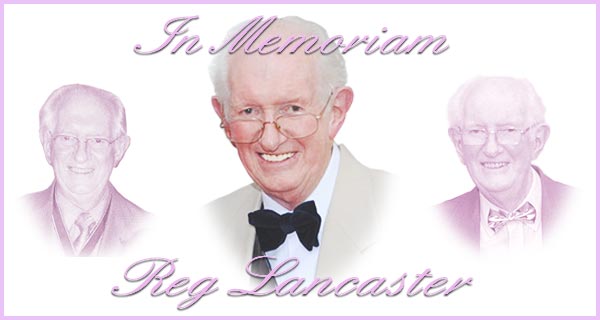 It was with great sadness that we learned that Reg Lancaster had slipped away peacefully at home on 13th December 2020, with his wife Annabelle and their son Ray at his side.
Reg had spent 44 years as a Fleet Street photographer/photo journalist for the Daily Express that had taken him travelling the globe.  He covered anything and everything; sports events, film sets, celebrities and the news.  He got a thrill from being 'in the thick of it' whether snapping a photo of Martin Luther King in London; Mick and Bianca Jagger in Saint-Tropez; racing driver John Surtees at Monza; the riots in Paris as tension built between students and riot police escalating in an exchange missiles or a Soviet tank being wrecked by a group of Czech youths in Prague.
He understood framing, angles, lighting and how to capture that special moment when there was only one chance to get the right shot. No wonder he became such a talented film maker, winning award after award, locally, nationally and internationally.  His talents didn't stop at film making; he was equally talented as a writer and presenter and an evening in the company of Reg was always worthwhile.
OVFM was privileged to have Reg.  He was one of our longest serving members and spent 40 years on the Committee, 18 of these as Chairman!  That's commitment.
Looking at the names engraved on the various cups, Reg's name crops us year after year.  This must have left some members wondering whether they could ever reach his standards and nick some silverware from under his nose, or whether they could bribe him with a ticket to watch his beloved Manchester United football team.
He was a good, fair and honest judge, helping to judge numerous competitions.  He was generous in his willingness to help others as they progressed as filmmakers, giving constructive feedback and providing practical guidance on how to improve.
One OVFM member told me that Reg was the best director they had ever worked under.  He wasn't satisfied until he had got the right shot.  Some folk didn't much like having to do 'take after take', but others were pleased that he took time to ensure the 'film was in the can' as it increased their capabilities and skills as actors; camera operators; lighting operators, sound engineers or in any other capacity.
And then there were all those wonderful journalistic style articles that he wrote in various magazines, some with his touch of humour coming through.
It wasn't just OVFM that were blessed.  He spent time as the president of the IAC, was heavily involved in UNICA, BIAFF, and festivals worldwide.  His love of travelling never seemed to leave him and many of his wonderfully documented films gave us wonderful glimpses into Countries that we wouldn't get to visit.
Reg has left us with a wealth of films made over the years, many made with his wife Annabelle, which we will treasure.
We offer our sincere condolences to Annabelle and Ray.  You are in our thoughts and prayers at this difficult time.
Jane Oliver, OVFM Chairman