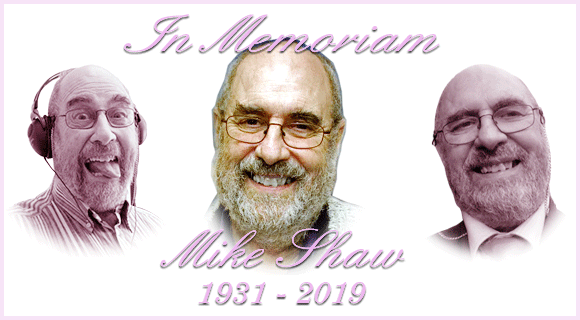 In Memory of Mike Shaw
by
Jane Oliver, OVFM Chairman
We were sorry to hear that Mike Shaw passed away on 8th December 2019.   Members of OVFM join me in offering condolences to his wife Annie and all the family. Our thoughts and prayers are you sad time.
Many knew Mike much better than I, but I felt an affinity toward him as a fellow 'creative' filmmaker who was always up to experimenting.  He was one of the few who understood the importance or 'story' to make a film stand out from the crowd and I became fascinated by his work.  He made some beautifully crafted ones where had no need to inject his wonderful humour.  My favourite of these was 'Turn Around', where pairs of footwear from baby booties through the years to grandparents slippers and round and round again to show life's ever turning circle, morphing one pair into the next as they turned round as though hung from a mobile over an infant's cot.  The idea came to him when he saw pairs of footwear neatly placed in a line in a hallway.  I would watch, absorbed, trying to work out how he'd made it; … what the background? … how did the autumn Maple leaves fall diagonally from the top of the screen to the bottom? … how did the shoes spin in one place? The music, as always, perfectly fitted the story he was silently telling.
The Enid Blyton Film that he made with his friends from Spring Park, Richard and Brenda Troughton, was a very special film and took years to make.  It abounds with special effects many of which you wouldn't notice or even know existed, where for instance he took intrusive or irrelevant images out of some shots as they were inappropriate to the 'period' it was based in.  Many have had the privilege of seeing this film, and it is difficult not to be overwhelmed by its creative beauty.
When it came to his more humorous films, I would find myself reliving those magical moments of my childhood, watching the impossible happen right in front of my eyes; with him starring in most of them, pulling all sorts of faces in front of the camera, I wasn't the only one who would giggle out loud.  What an artist!  He could paint his story, scene by scene without murmuring a word, such was his ability to tell story through pictures.  His perfect choice of title, font and music, together with his tight cutting to get shot of any unnecessary material, provided  an insight into the work of a master craftsman and the signing off at the end 'Mike made it' added that little special personal touch.
Film after film won award after award at club, national and international level and he was involved in all aspects of amateur film.  He served on Committees, held chairmanship posts and wrote in various columns, including the national IAC magazine.  He had a flair for words that made it easy for others to understand his message in a down to earth way.  He was an experienced and fair judge and provided honest constructive feedback to help individuals progress to higher standards.
He was unselfish, often helping others out on a 'shoot' or putting together training for the club, answering queries and helping others to resolve issues. He put a huge amount of work and energy into 'The Viewfinder' packing every edition with his 'artistic flair', colour and humour.
When it came to social events, he was happy to dress up in some bizarre outfit and make a fool of himself and offer his lovely garden to hold our summer get together…. And of course he would be appropriately dressed for the Oscars.
During the last six months, despite not being able to get to the club and frustrated that he was less able to do any editing, he remained in touch and helped me with Resolve and other technical issues.  Mike was a mentor to me and 'sounding board' whom I had the greatest respect for.  I am so glad that some of his films were shown in our most recent Autumn Show and although Mike was not able to be with us, he was given his own copy and thoroughly enjoyed watching the show at his leisure.
I was privileged to have known Mike and he will leave a big hole in my affections and that of many a filmmaker, friend or associate.
Rest in peace my friend.    Jane x