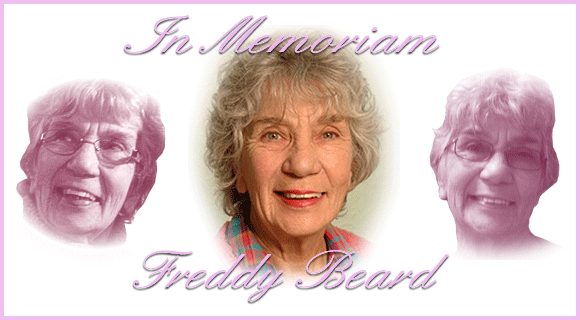 FREDDY BEARD – FACI
1938-2018
A Tribute by OVFM Chair Jane Oliver
Dear Freddy, where do I start?
Freddy was always there, part of the fabric of the club, her presence always felt. A warm welcome greeted all who crossed our threshold at OVFM. The club ran smoothly due to what she did in the background and the links she had fostered over time. Freddy had all the information one could ever ask for at her fingertips. She rubbed shoulders with people from all walks of life, no matter their standing and yet had some of the most beautiful traits that any human being could ever have, that of humility and servanthood. Nothing was ever too much and she was the one who would go out of her way in order to help someone else. We have so much to thank her for.
Take club evenings, as if by magic the lights would go on and off during our evening film shows at the appropriate times. When anyone else stepped up to do the lights in her absence, we'd have a light show; Switch off? No, on. Switch on? No, off and then another light would mysteriously come on.  Freddy was a little under the weather at our last meeting so offered to relieve her of 'light duty'. Her response was firm, a most emphatic 'NO' and I knew exactly what that meant! Dogged, determined, Freddy's philosophy was that nothing would 'defeat' her.
…. And the notice board, pictures, posters, rules, minutes, reports, news and adverts, the magazines, the badges, the event boards that did the rounds for members to sign up to; where did they appear from? only to disappear at the end of the evening.
…. And at the interval; who would invariably be behind the serving hatch? Even at the last meeting she volunteered, serving us again despite not feeling particularly well.
How faithfully she served us. Nothing ever seemed to be too much.  She got on with her duties quietly and unassumingly; her effectiveness as OVFM club secretary was second to none. Wherever did she get her energy? When most of us had dropped into bed, exhausted from the last committee meeting that had, once more, gone on too long, she would sit up into the wee small hours typing up the minutes to ensure everything was in order. I sometimes wondered if she ever slept when I saw the 'time' her emails were sent.
Freddy would be out filming at the Big O Festival and other local events to gather material for the newsreel. Nothing was too much, despite her huge commitment to Oxfam where she worked as a volunteer for many years.
This behaviour, this servanthood, went far beyond the boundaries of OVFM.  At SERIAC, The Kent Film Festival, BIAFF, UNICA and the like, you'd see her busy with one duty or another; 'light duty' catering, serving, clearing up, sorting out the raffle, or hiding in the broom cupboard sorting through hundreds of envelopes to return films and provide judges' comments to the filmmakers. She'd be carting films and equipment back and forth whenever and wherever it was needed … and when we needed props, well, she had plenty of sources.
…. And the social occasions, garden parties, Christmas functions and when the club was together as a group to film….  who'd be part of the set up team, the catering team, the clearing up team, or whatever other team you had created?  Freddy.
…. And as though her OVFM role wasn't enough, she found herself on the KFF Committee for many years and was the Treasurer of SERIAC.  Freddy would travel the world to get to a film festival and was welcomed at clubs across the globe, where she was known and loved.
She fully deserved her fellowship to the IAC, although typically, she tried to turn in down believing she was unworthy.
I was so pleased that Ian showed us his little film starring Freddy at our last meeting and that she was there to enjoy it. So beautiful and poignant, a lasting memory that we will have forever, thanks to Ian and Freddy.
Freddy, you were loved and will be sorely missed. Such a character, life experiences etched into your face, cut deep with laughter lines and dimples. A face engraved indelibly upon my memory, together with the sound of your distinctive voice and unmistakable chuckle; a memory that many others share.
Our thoughts are with Freddy's three boys, Alan, Michael and Andrew and their loved ones at this sad time.