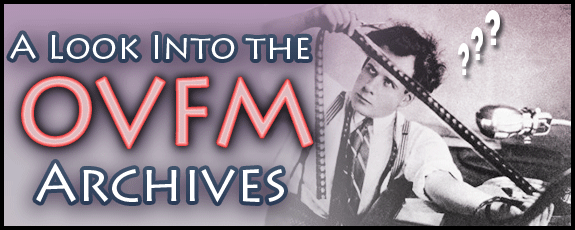 With Lee, our glorious webmaster and esteemed Keeper of the Records, suffering with a severe dose of 'Oh deary me I'm not feeling awfully well' and an acute case of 'Wretched fiddlesticks, I appear to have a pain', it was down to the A Team to step in and save the day.
Actually do I mean A Team or do I mean the B for Back-up Team? No wait! I really mean the C for C Class Celebrity Couple of Annabelle and Simon who like a well oiled (more of that later) machine utterly failed to fill Lee's big black boots…but at least they tried!
So with Andy piloting the Archive Time Machine and Annabelle and Simon poised with pencils to keep scrupulous notes of the films shown, like what Lee does, we were off.
1. DIY by The Gremlins. A gloriously funny short with a hint of gallows humour! Thanks to Annabelle for correctly noting the name.
2. Magical Moments also by The Gremlins,  Basil Doody, John Alford and Pete Greenway (sadly departed). The touching tear jerker starred the wonderful David Locke (also sadly departed) as the park keeper imagining himself as a magician.
3. Sperrymental by Basil Doody. Basil decides to make an 'original' film with help from Frank and Lynn Chanter. Hilarity ensues as the subjects of crisp eating, wine drinking, poetry reading and the techniques of filming upside down and in an experimental way (out of focus) are employed and exploited in a desperate and increasingly 'well oiled' attempt to make an award winning film.
4. The Grey Team by Annabelle Lancaster. An epic documentary examining the lives of the beautiful Whitbread shire horses. From pulling the Lord Mayor's Coach one day and delivering beer around central London the next. To attending the numerous shows around the country to visiting the blacksmith for new shoes. The film concludes in exhilarating manner when the horses are seen enjoying their two week holiday in rural Kent and we watch them gallop excitedly in the open pastures.
5. Call of Duty by Colin Jones. This comedy finds our untidy hero Kevin desperate for help to clean the house before the imminent return of his parents. A comic mix up with telephone numbers means confusion all round…and no help for Kevin.
6. For Better For Worse by Basil Doody (he was the star of the evening and he missed it all!) Pity the poor couple at the centre of this calamity cursed wedding day. A vintage comedy with cameos from Reg, Annabelle and other youthful club members.
7. Problem With O by Bob Wyeth. A well observed humorous short with a little shepherd boy totally unable to keep his placard under control at the nativity service.
8. City Beat by Mike and Jo Coad. Punchy and pacey, this is quiet literally city scenes cut to music.
9. Pulling the Birds by Colin Jones. The Pheasant Pluckers Song lip synched for comedic effect with lots of rubber chickens thrown in for good effect.
10. Nimrod, directed by Colin Jones, filmed by Frank Hyde. A rhyming couplet spouting cocker spaniel called Nimrod dispairs of his human family and their odd behaviour.
And that concludes the show. A great evening for one and all.
Simon