Sun Shines on Summer Social
WORDS: Hugh Darrington
PICTURES: Hugh Darrington and Jane Oliver (click to enlarge)
CAPTIONS: Lee Relph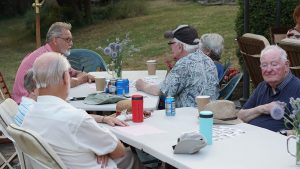 Well, the OVFM summer social (formerly our barbecue evening), held in Jim Morton-Robertson's lovely garden on July 24, certainly ticked all the right boxes.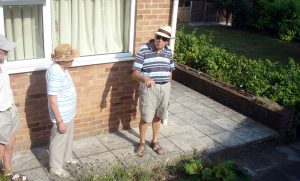 Nineteen of us, including wives and partners, got together in a comfortable shaded patio area to eat fish and chips, delicious desserts and ice cream. The desserts, mouth-watering trifles, strawberry pavlova, apple tart and ice creams were provided by Fran Morton-Robertson, Corrie Jones, Barbara Darby, Brenda Wheatley and Peter Mitchell. And as evening drew in we didn't get a bit chilly.  Marvellous.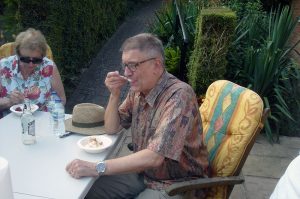 Reg Lancaster's team won the ' who is it' picture quiz, and Colin Jones' team (including me ahem) won the general knowledge quiz after a nail-biting tie breaker. Actually we were the only team which knew which animal's wee is so thick it is like treacle, and its pats so dry they are used for fuel. Answers on a postcard please. Quizzes were put together by our leader Jane Oliver and presented by our now resident actor Chris Towers.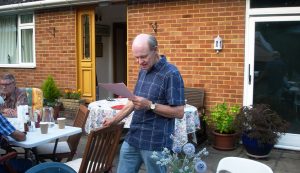 The parking was coordinated by Jim who squeezed nine or ten cars in his drive although some drivers had their reversing skills put to the test when the time came to leave.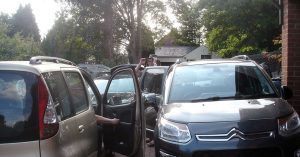 Thanks to everybody who helped put this together, particularly Jim and Fran for getting it all ready in their garden and cleaning up afterwards.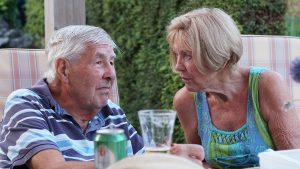 For the full collection of photos please visit the club gallery HERE !