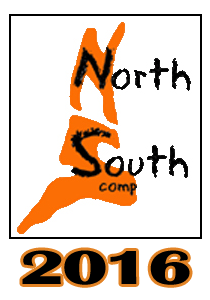 Despite the weather plunging deeper into the coldness of winter this year;'s North vs South final at Farnborough Village Hall on Sunday December 4th welcomed a very healthy turn out (in fact two extra rows of chairs were needed) to find out which side of the river would prove victorious!
An impressive count of 27 entries (including five from OVFM) from 16 clubs nationwide made the final programme with two unfortunately being jettisoned at the last minute due to time constraints and the usual 45 minute tea break reduced to 30 minutes. The films – all conceived under the theme of Out Of The Blue – took in comedy, drama, documentary, animation, surrealism, and even someone showing off their new camera drone. A wide variety of ideas and concepts all conjured up from one simple phrase.
Before we get to the results, there were two people who correctly guessed the order of the decision of winner and runner-up from this year's assigned judge John Sharp. Also the theme for next year's competition was not correctly guessed by anyone either more on that in a moment.
So, who won?
Well, the runner up film was:
Don't Give Up from AVS Movie Makers representing the North.
This was a docu-drama based on real events of a former sportsman turned company director who suffered a stroke aged 42 yet managed to come back from it and establish his own stroke support charity. This was awarded the Harry Adams Trophy.
And the winner is:
Ties That Bind from Sutton Coldfield Movie Makers representing the South.
Scooping the top prize of the John Wright Trophy was a drama about a retired married woman who reveals she had a child as teenager whom she gave up for adoption and the surprising reaction from her husband.
That means for the first time in a while the South was victorious so congratulations to Sutton Coldfield to making that happen!
EDIT: 
And here is the final Top 10 rankings according to judge John Sharp:
1st       Sutton Coldfield Movie Makers – Ties That Bind  (John Wright Trophy)
2nd      AVS Movie Makers – Don't Give Up  (Harry Adams Trophy)
3rd      Spring Park Film Makers – Where Time Stood Still  (Highly Commended)
4th      OVFM – Meet Dexter (Highly Commended)
5th      Cheadle & Gateley Film Makers – The Prodigal (Commended)
6th      Pendle Movie Makers – Out of the Blue (Commended)
7th      Bristol Film & Video Society – Don't Call Me Baby (Commended)
8th      OVFM  – Reaching for the Skies
9th      Cheadle & Gateley Film Makers – Out of the Blue
10th    Tynemouth Video Film Making Group – Lost in Translation
And the theme chosen for the 2017 competition is MOVING.
This is an ironic topic since this will be OVFM's last time hosting this event and we hope to hand over the reins to another southern club to carry on the work and mantle of Mike Coad and OVFM. To that we should extend of heartfelt thanks to the OVFM members who stepped up and organised this year's show, as well as those who made sure everything ran smoothly on the day, from setting out the hall seats to supplying of the refreshments, from selling the raffle tickets to the actual screening of the films, and of course to Sam Brown for acting as MC.
So, that is the North vs South for 2016. Well done to the winners and to everyone who entered a film and here's to next year's event!