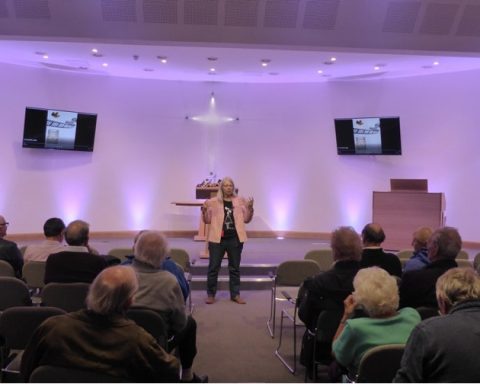 OVFM Invades Otford!
OVFM treated friends, family and members of Otford Methodist Church on October 3rd to an evening of entertaining films for the "SURPRISE".  This was the first such event put on in the plush new church, kitted out with all the latest technology.  After a whistle stop tour of the impressive facilities including 2 fixed pan tilt and zoom cameras, and lights that could wash the stage wall in any colour you could think of, we settled back to an evening of carefully chosen films, that gave a flavour  of the different styles, genre and capabilities of our members and gave the impression that the club is truly 'thriving'.  It was also an evening where we once more tried to drum up interest in the upcoming AUTUMN SHOW.
The films were played from a portable hard drive plugged into the church computer and the sound controlled through the sound desk.  Signals were transmitted via broadcast CAT6 cables that run beneath the floor.  This was the first time the screens had been tested 'after dark'.  The lights remained on during the screening, but the pictures still remained vivid albeit there was colour distortion, ghosting and reflections which we failed to resolve.  Even with the Black Magic ATEM TV Studio switched off, the problems persisted.  Sorry if that tainted your enjoyment of the evening.
James Morton-Robertson made a trailer of Hampden P1344 and Barbara Darby and Jane Oliver made shorter versions of some films.  John Epton produced a film specifically for the event in which he gave a number of examples of special effects.  It is hope that we at least tickled the appetite of some of our audience for pursuing the art filmmaking.  Jane chose the films, many from the archive, which has a wealth of films within thanks to those who set it up and maintain it.  Jane imported them into her Edius software, made fine adjustments where necessary and ran them all into one time line with just enough space between for the computer operator to press the 'space bar' during the screening to 'pause' and then 'start' the next film.  There was an opportunity for film makers to make comments about their films, except for poor old Reg, as time was running short.
During the interval we enjoyed tea,  proper coffee and scrumptious cakes home made by Jane's church fellowship group and a friendly bunch they proved to be.
Thanks to all of you that took the intrepid journey into the night, to a wee village yonder, without a street light to be seen to support this event. At least the contemporary stained glass window gave a welcoming light on arrival.  Many club members have said how much they enjoyed the evening and friends in the church were both delighted and amazed at the variety and quality of the films shown.  As usual there was a huge thumbs up for our 'comedy classics'.
Keep them rolling!
Text – Jane Oliver
Photo – Trevor Rogers