GUEST SPEAKER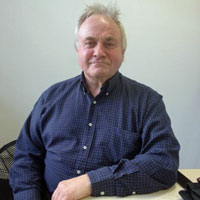 BILL DUDMAN
This coming Tuesday sees a guest speaker paying a visit to OVFM – Bill Dudman!!
Bill is an acquaintance of John and Ann Epton but don't let that put you off from attending this session! Bill is a cameraman and Director of Photography of BBC Ealing Studios with an extensive CV of many television titles familiar to us all, including Black Adder, A Bit Of Fry & Laurie, Keeping Up Appearances, The Two Ronnies, Doctor Who and many more.
Since retiring from the business in 1997 and again in 1999, 2001 and just last week, Bill has been busy rearing homing butterflies as well as running a successful mobile funeral service and dipping his toes into children's literature, with such best selling titles as Simon And The Smelly Sock, The Tiger, The Wizard and The Airing Cupboard and Forging Your Parent's Signatures for Beginners.
Bill will no doubt have many great tales and anecdotes from his storied career to share with us as well as helpful tips and advice so this is a session you won't want to miss.