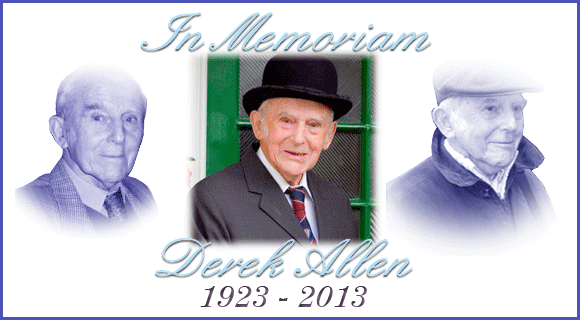 By now many of you will be aware that OVFM lost another member of its family last week when Derek Allen sadly passed away. A stalwart of the club for many years, Derek will be fondly remembered for his prolific film output and cheeky sense of humour.
His funeral will be on Monday July 22nd at Beckenham Crematorium at 12:45pm. Olive Allen has requested that instead of flowers, donations be made to Harris Hospice in memory of Derek. The funeral directors will be on hand to take donations or they can be posted.
DEREK ALLEN 1923-2013
Obituary by Reg Lancaster
All who knew him will share our sadness at the loss of our dear friend Derek Allen who passed away in his sleep recently. He was a valued member of OVFM.
Derek's love of film started early. "We kids used to gather up scraps of 35mm film to roll up tight in paper," he'd wink, "When you set it alight, it made great 'stink bombs!"
Later he bought a Boots ciné camera, making holiday films and he joined OCS, our former name. Often working late, he couldn't attend many meetings. He returned after buying a video camera and was surprised to discover that he was our first video member and was promptly asked to give a talk about how it worked.
His long friendship with Mike Turner began in the local National Trust Centre. They'd record outings and group holidays together, including little off-the-cuff comedies shot at these exotic locations. Mike then joined us and soon we three became friends.
He had recently stood down from several committees but when our Secretary Annabelle approached him about standing for Committee, he agreed and served for several years. Many strings to his bow became clear, such as having been a Flight Lieutenant in the Air Training Corps.
The subject of his recent film, My Friend Ralph was Ralph Reeder, founder of the famous Scout Gang Shows. Derek was involved for years, both behind the scenes and on stage too. At his Golden Wedding he made a touching, funny speech and later, sitting with old pals they went through the old comic songs, as we stood around applauding. The children loved it.
A member of the National Trust Centre's fund-raising Committee, Derek produced shows at the Stag Theatre and memorably featured with Mike Turner and NT Chair Geoff Lewry in a hilarious drag version of "Sisters" the Beverley Sisters' hit. He regularly made a perfect Stan Laurel, with well upholstered Geoff as Oliver Hardy. Like the originals, one look and you felt better.
As a boy Derek won an essay competition and loved writing. He came up with articles, ideas for films, letters and emails at the drop of a hat. The Committee decided to have a serious go at the North v South competition and next day his story idea dropped on our mat, well ahead of three others. I could see how his idea could be done and asked if I could photograph it, wrote a screenplay and we called ourselves The Geriatrics. We made four dramas and brought the elusive John Wright Trophy South three times. A keen Casablanca man (guilty, your Honour) he pursued video editing with relish, never failing to enter every club competition going. Derek was a talented, cheerful and delightful man who was a treasure to have in any organisation or club.
The sudden death of his father saw Derek take on the family business very young. He was dapper, good company and surprisingly energetic. He was still working right up till last autumn.
Earlier this year, he went into hospital for two months. It was typical of his attitude to life that the medical team were impressed by his spirit and forbearance in the way he faced his situation. Looking forward to his 90th birthday, he was sharp as a tack the last time I saw him, only 36 hours before the end.
Of his many talents, it was with children that you saw Derek at his best. They don't fool easily and he tuned to their wavelength effortlessly. Derek had no knowledge of French but our Swiss grand daughter Roxane who has Down syndrome, took to him instantly and for them, over the years, communication was never a problem. His own large family circle adored him.
It was a pleasure to know Derek. Our sincere condolences go to his loving wife Olive, their children and grandchildren at this time. He will be greatly missed.
Please feel free to share your memories and thoughts about Derek on this page.
Thank you.