Freezing Friday

The Making of
Two Little Words
By
Lee Relph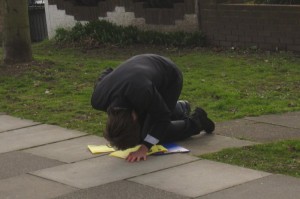 Part 2
"Perhaps I should rephrase that."
Part 1 can be found HERE
(Click on thumbnails for larger images)
It was around 9:15 am that we descended upon Chez Lancaster to shoot the internal scenes since the hallway in my own home is a little…well…little, while the Lancaster's was just right (according to my location manager Goldilocks). Amazingly Vanessa actually arrived a few moments after Simon, Dad and I got to the Lancaster's – coming all the way from Canterbury for the shoot! It was also at this point that I learned Vanessa had just got over a flu bug herself, making me feel doubly guilty to have her wander the streets in this unpleasant weather as per the script. But, ever the trooper, Vanessa insisted the show must go on although at this point it hadn't actually started yet.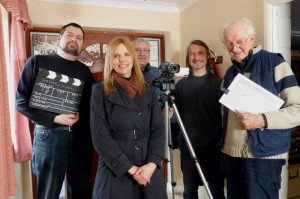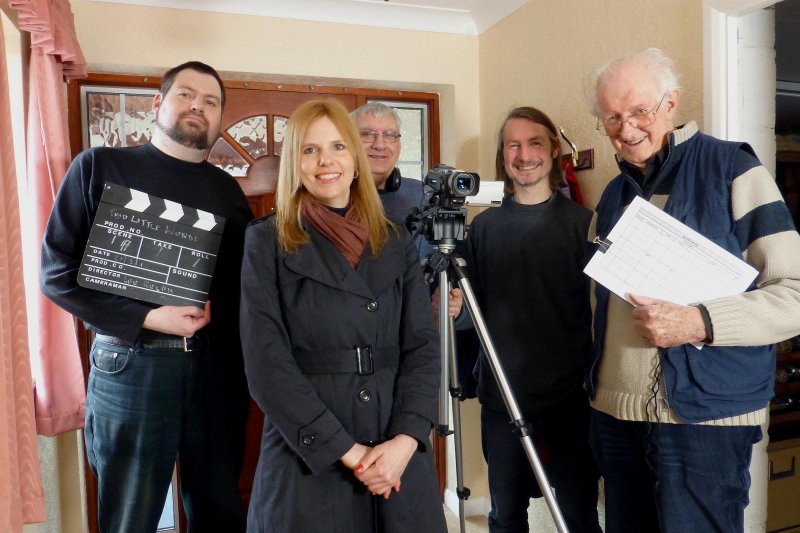 Having turned the Lancaster's hallway into a movie set we started shooting and amazingly made good time, finishing up earlier than expected. Despite having to change microphone leads and the camera battery, everything went smoothly, with Vanessa maintaining all of the main performance points and the little touches with each take. It was during the final stages that I received a text that some of the actors who were due to arrive at my house by 12:00pm had arrived nearly forty minutes early – and all the way from Dover! Can't imagine the look on the neighbours' faces when the ferry pulled up outside our house! I had to feel a bit sorry for my Mum, who was left all alone with a bunch of strangers, although I had not met them in person either.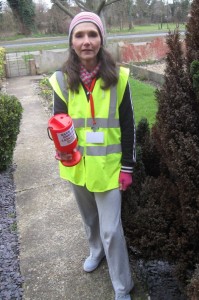 Shortly after our rag tag convoy left Chez Lancaster and headed off to the bijou comfort of my humble abode, where we were to find Dover based actress, writer, model, make-up artist Karol Steele (whom I'd not even meet before yet she played two roles, recruited her son, her dog AND did the make up for the girls!), her son Ben (a young actor in his own right who also had a bad cold) and their dog Ted. Also arrived at the house were the three teenage girls supplied by Sylvia Snipp. Perhaps I should rephrase that. Ella Barclay, Alice Farrell and Megan Snipp are young actresses Sylvia brought to the project along with two lads, Connor Hughes and Callum Murphy to fill some key roles.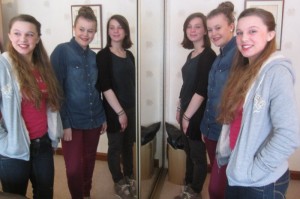 After a brief break during which we stuffed our faces with food from the lavish spread my mother laid out for us, it was time to commence filming again. This was where the fun began. The first scene involved Rob Bushell stepping out of a bookies but I discovered that the envelope with fake money it in for Rob to brandish had gone missing. Dad ran (not really) back to the house to look for it to no avail, so he made a new one. We eventually found it later on as Karol inadvertently thought it was a part of Ben's props and stuck it to his clipboard!! Doh!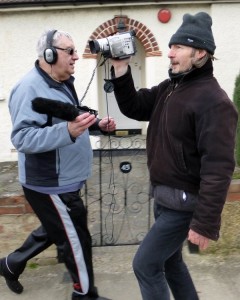 Earlier in the week, Dad and I approached the branch of Coral bookmakers in Carlton Parade for permission to film outside their premises with the use of their front door. While the manageress was very helpful ringing up her superiors for confirmation, we never got a return call from her. Come the shoot we went in and asked again, only to be told she was still waiting for a phone call. The woman from Coral still hadn't got back to us with permission, so we decided to film it guerilla style and quickly shot the scenes, with Rob just standing at the door rather than coming out of the shop. We had a similar problem with the Co-Op who also never got back to us with permission so again we sneaked our shots in before fleeing!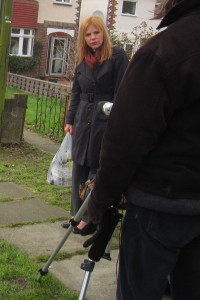 My house and Carlton Parade are both on the main road so we had to deal with traffic noise and passers by interrupting the shots. The latter wasn't a problem as most people stepped aside or waited until we finished, except for a group of boys who slowly wandered about along the road and loitered in the background hoping to get into shot (they didn't!). When filming outside the house however it seems all of the Sun readers driving by weren't as considerate as the pedestrians, tooting their horns in the hope of ruining a shot. Thankfully they too failed but one has question the mentality of these people who feel the need to be so purposely disruptive.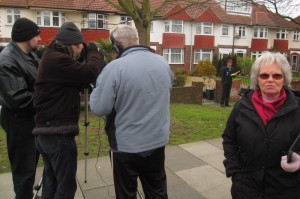 By now the temperatures had fallen even further and poor Ben really suffered for his art in his scene. To be fair I told him it was fine to wear his overcoat but he insisted to continue without it, despite his sneezes turning to icicles before they even left his nostrils! Then there was the physical aspect of this scene. Ben joked he would "take one for the team" but with the various retakes and different camera angles he ended up taking TWELVE for the team!
 As everyone knows, especially for a drama production, one can't give an accurate finishing time for a shoot. I had initially suggested both the Friday and Saturday for the shoot but the various schedules meant just the one day was viable. It what some (everyone?) saw as an act of optimism, I pencilled in a 4:30pm finish. We actually filmed the last shot at 4:35pm! In your face, doubters!! True to my own personal and unintentional tradition however, I did forget to get a couple of important shots but nothing that couldn't be circumvented in the final edit, while other shots we unfortunately spoiled by intruding microphones. Had we the benefit of two days shooting this could have been rectified but overall I am very happy with the footage I have.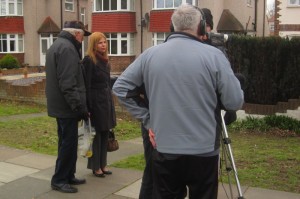 I must give my personal and heartfelt thanks to everyone involved. to my parents for their unconditional support and contributions to the proceedings; to ALL the actors (Vanessa, Karol, Ben, Ted, Ella, Alice, Megan, Connor, Callum and Rob) who braved the weather yet still performed amazingly without complaints; to Reg and Annabelle for letting us use their home as a set and for their endurance for the rest of the shoot; and to Simon who was a great cameraman, not only for bringing my vision to life but he understood what I wanted while bringing his own expertise to the project. I finally have a good looking film!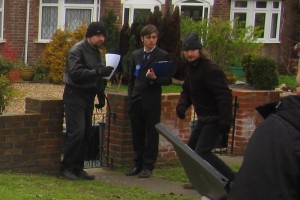 Despite the trials and tribulations that accompanied this shoot it was one hell of an experience for me and I haven't felt as alive as I did on that day. Well, maybe when I was first born but my memory of that period is a quite vague – I WAS just a baby after all! It was also invaluable learning curve for me, being my third "big" production out of six films and the most important thing I got from this session was exactly why I don't make more films!!
Anyway, I hope everyone enjoyed the end result as seen at the last club meeting on April 30th and if you didn't then I have Two Little Words for you…..
Thanks for reading.