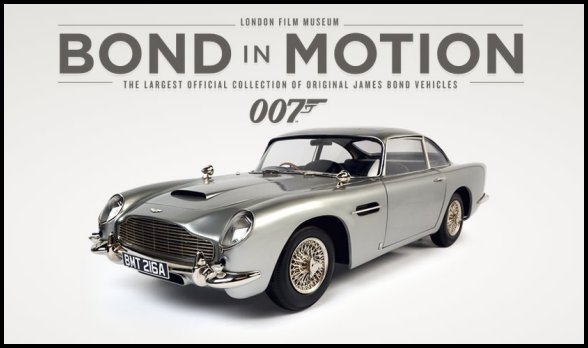 This year we are taking a break from the annual club ramble to embark on something different for our summer gathering. Having considered a number of options the committee decide that the London Film Museum would make for a fascinating and fun day out for the club – we are film makers after all!
The trip is to take place on SUNDAY AUGUST 17th to the London Film Museum in Covent Garden, and this year the museum is hosting a James Bond themed special entitled Bond In Motion in which cars, props and other production memorabilia will be on display for our perusal.
For full details of the event please visit their website HERE!
This event is open to all club members who are welcome to bring to bring spouses, family members and friends. You are welcome to bring your own food and drink although there is a coffee shop on the premises and numerous places in and around Covent Garden for you millionaires to feast at. 😛
The museum is open from 10:00am to 6:00pm with last entry granted at 5:00pm. We plan to meet up outside the venue in Wellington Street, Covent Garden at 11:00am. There is a map and directions on their website.
TICKET PRICES
Represents standard admission prices.
Full price – £12.50
Child Ticket – [5-15 years] £8.50
Concession Ticket – £8.50
[Students, 65 + and freedom pass holders]
Family Ticket – £38
Under 5 – Free
Audio Tour – £5
At the club tonight we will be asking for numbers so we have an idea of how many be attending so we can book the tickets.
So please take a look at the website and if you want to join us let us know tonight.
Thanks for reading!