The day Animal Planet came to film!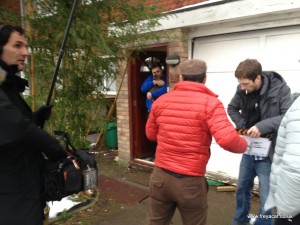 What an exciting month I've had!
It started with a call from Animal Planet TV on a Friday, saying that they'd seen my cat behaviour channel on YouTube, and they'd like to film and interview me and the cats for a series called "My Pets Gone Viral". WOW! I hadn't spoken to a TV company before, but I quickly answered "of course, when?"
"Oh, Wednesday" they replied, "We're flying a crew over from Canada." Blimey! A CREW… FROM CANADA! You can imagine my excitement! The only catch was the lounge would need a tidy before they arrived, so the next three days was spent sorting through the stuff in the lounge and ferrying it upstairs to the spare bedroom!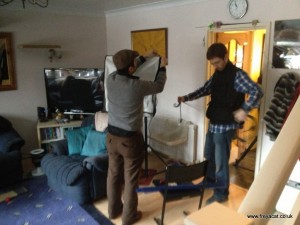 Wednesday arrived, and the 5 of them arrived in a large people carrier car. I was expecting 4 of them – Director, Cameraman, Soundman, and Camera Assistant. The Camera Assistant sort of did the job of Runner, but to call him a runner isn't fair – he had a pretty good knowledge of everyone's job, and was always running around fixing stuff. And the 5th person – he was the driver, and just sat in his car all day, on his iPad and listening to the radio until lunchtime! But save your pity, he was on a very good day rate, plus taxi mileage!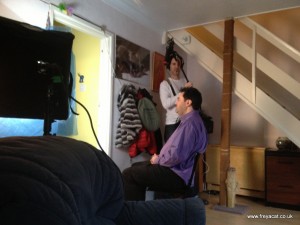 The day started with the director interviewing myself and Anna, asking a variety of questions, to do with the cats, the YouTube Channel and its success. One of the questions was "What are your favourite comments on the films?" It was like they were feeding me a line – I replied "I like the comments that say that they love my documentary style and English accent so much, I should be on Animal Planet!" I wonder if they'll use that line or not? It seemed a little funny to do the interview before we'd really settled in and got to know them but in fact it was a good idea, as the days filming was based on the answers we'd given in the interview.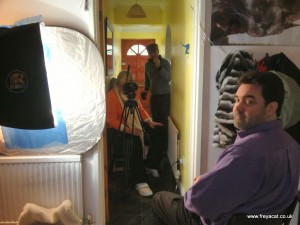 Finally, at around 4PM, they wanted to do the intro and outro sequences – The intro was a shot of me walking out of the front door, saying "This is Freya, my spoilt Princess" or something like that.
They had a sort of dolly track on tripods so they could track into me while I said it. It took about 30 minutes to setup and would have produced about 5 seconds of finished footage!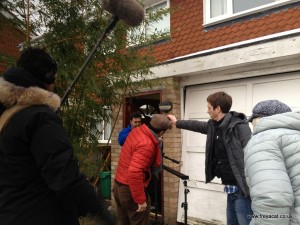 Then came the outro! It required a sort of fake studio setup, with a bright yellow backdrop, a fake TV camera and a big light with reflective umbrella, and a director's chair – The idea was that the cat would sit in the chair, and look right down the lens, as the camera moved toward it. Good luck with that! I thought.. Many times we tried to make Freya sit in the chair, and as soon as she settled, the cameraman would yell, "CLEAR!" – We'd dive out the way, and he'd start his track in, and Freya would jump down. Having taken an hour to setup this shot, failure was not an option.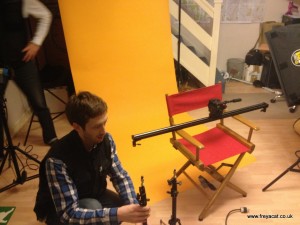 Fortunately, the treats that we'd been using to persuade Freya to sit still hadn't gone unnoticed by the other two cats, Teego and Chatzi, and not wishing to miss out, they jumped on the chair too. "CLEAR!" The cameraman suddenly yelled again, and we dived out – The camera tracked in, with all three cats looking right down the lens. We held our breath and the three cats sat still for the whole four seconds. The camera reached the end, and stopped, and almost on cue, Freya bit Chatzi's neck, and he pushed her off, and in the squabble, Teego got pushed off the chair too! So then the shot was left with Chatzi sitting on his own, still looking down the lens, as if to say "THIS IS MY CHAIR!"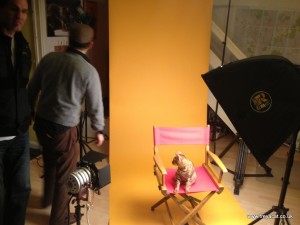 We held our breath waiting for the director to call "Cut!", and we all gasped and looked at each other, waiting for the cameraman to rewind the shot and look if he'd got it all or not. HE HAD! The crew were all pretty amazed, and declared that was the best outro they'd got for the whole series, due to air in March/April!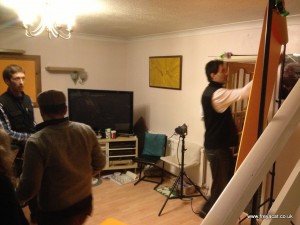 If the excitement of Wednesday wasn't enough, I had an unrelated phone call two days later, from a production company in London, asking to license my Tyre Spotter video! (Made for our 'My Other Hobby' theme evening) They wanted to use it in a clip show with a comedian making fun of the films, so of course he won't be mentioning it's a spoof, but I don't mind – if they pay, they can say what they like!