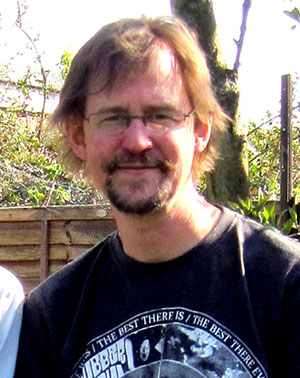 Let me tell you, if you missed our guest speaker Tim Jones, you have my sympathy, because you missed a real treat!
Tim is a Senior Lecturer at Christ Church College Canterbury in the Film and TV Dept. but more importantly than that he has a long association with OVFM. He was just twelve years old when first permitted to attend the club with Dad Colin. He rapidly became a fixture, not only making his own prize winning films but acting in club films too.
Tim's informative and entertaining talk kicked off with some wonderful old clips of the club, 'Meet the Members', with a very youthful Colin, 'The Making of Jumble Sale', with a fascinating behind the scenes glimpse at the club in action, and then a snippet from 'Jumble Sale' itself showing Tim as a boy in his Star Trek outfit, height of fashion at the time I believe!
Tim remembered with fondness a regular club competition that involved in-camera editing and just one roll of cine film. The film maker didn't see the results of his labours until it was shown at the club meeting. Talk about challenging! One film that particularly inspired Tim was a time lapse movie made by his dad of sky and clouds set to classical music. We watched Colin's original 'Skies' and then a bang up to date film by Tim called 'Night Garden'. Filmed over three years using a dSLR camera, long exposures and time lapse techniques. The resulting video was absolutely beautiful, with ethereal clouds racing across the star studded night sky, and plants twisting and turning in the foreground. Tim explained that as the camera was left trained at the sky for up to six hours at a time his main problem was condensation forming on the lens.
After a lively tea break, with Tim expertly fielding our numerous questions, we continued to the second part of the evening.
I think it's fair to say that Tim is passionate about amateur film making and amateur film makers. Over the years he has devoted himself to seeking out and preserving the precious cine films made by amateurs in and around the Canterbury area. In his quest he has discovered a genuine treasure trove of historically important, socially fascinating and artistically significant footage.
Inevitably Tim's own film making took a back seat for a while. The stories of the personalities he'd discovered desperately needed to be told though, so as soon as he had the time Tim started work on a documentary. Actually not ONE documentary but THREE about amateur film makers in the Canterbury area…simultaneously!
First we saw a clip from 'Seeking Sidney', about Sydney Bligh an amateur film maker from the 1920s and '30s. Tim's documentary features Helen, Sydney's grand-daughter, as she goes on a journey to discover more about the man she never met. Part of the legacy of 16mm film that Sydney left behind is some unique footage of Count Zboroski. He was a racing driver who built the original Chiity Chitty Bang Bang, the car that Ian Fleming later used for inspiration for his story. Shortly before the Count died in 1924, in the Italian Grand Prix, he had a narrow gauge railway built around his estate. Sydney Bligh's film of this railway is the only record of it that exists.
Tim showed us a clip from 'Crooked Billet' a 1930s film drama made by the Canterbury Cine Club, which Sydney was a member of. The club built it's own large studio and its own sets and spared no expense in making the best amateur films it could.
The second of Tim's documentaries, 'CACS Film Unit', features two members of the Canterbury Amateur Cine Society remembering the fun they had in their club in the 1950s. The old clips of Canterbury are absolutely fascinating as well as historic, and the enthusiasm of the two men for the club that was a big part of their lives is plain to see.
The third film is 'Peter Watkins'. This name may be familiar to some as he is a film maker of high regard. Having started out as an amateur in the Canterbury area he went on to travel the world and make important films where ever he went, in fact he is still making films. When approached by Tim about the documentary he wished to make Peter Watkins was positive and encouraging…but with a couple of conditions! No, he wouldn't be interviewed and no, he wouldn't allow any clips from his films to be used! Never-the-less, going by the excerpt that we were shown, Tim has used his imagination and skill to produce a revealing and highly entertaining documentary that tells the story of a very special film maker.
In the excerpt we saw crew and actors talking about 'Dust Fever', a Western, filmed in a sandpit in Kent. The only copy of this film was sadly stolen and all that remains are black and white stills and Super8 cine filmed by the crew.
Films by Peter Watkins that you may know or have heard of are 'The War Game', about nuclear war, which the Government of the time put pressure on the BBC not to show it for many years. And 'The Forgotten Faces', about the Hungarian Revolution, which you can see on Youtube (https://www.youtube.com/watch?v=QtiZFnrOnrc).
With the evening at an end Tim had one last message for us, to record the memories of our club members for posterity and it's faces and activities too. After all who knows when someone like Tim might want to make a documentary about US!
Thanks Tim for a very inspiring evening. I hope you'll come back and keep us updated.