Colin Celebrates Fifty Years with OVFM.
Fresh from his success leading the August OVFM ramble around Penshurst, the ever dynamic Colin Jones accepted an invitation to share his film making memories at a recent club meeting.
'An Evening With Colin Jones' was entertaining, informative and thoroughly good fun. Amongst the films shown were great examples of the documentary, drama and comedy genres that Colin has made during the fifty years he's been associated with the Orpington Video and Film Makers' club.
Ever enthusiastic about film making Colin still seizes every opportunity to explore new cinematic styles and ideas and to experiment in new and ever more creative techniques. Colin held club members enthralled with his anecdotes and humorous descriptions of his experiences in the world of amateur film making, experiences that date back to the steam radio days of proper cine film and reel to reel tape recorders!
For those of us only familiar with the modern digital video format the sheer skill and discipline required to shoot on cine film is quite breath-taking and the resultant efforts humbling to view.
Amongst the fascinating films Colin treated the packed audience of fellow club members, friends and family to, were several period pieces that clearly showed how much Petts Wood and Orpington has changed in the last few decades. Thanks to Colin and other club members we have a record of this transformation preserved forever in our archive.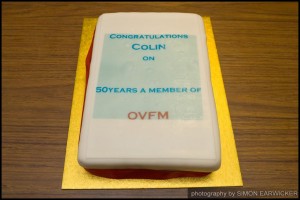 Attendees at the OVFM Spring and Autumn public shows will know Colin's work well as his films are frequently included in the programme.
Thanks for a great evening Colin, thanks for the memories and thanks for all the films…keep up the good work!
Obviously a golden anniversary like this couldn't go unmarked so thanks to club member Peter a suitably inscribed cake was respectfully proffered, mathematically divided and eagerly consumed!